World news story
Applications open for 2018/2019 Chevening Scholarship
The one year scholarship is open for Egyptians from all over the country to pursue their Master's degree in the UK in various disciplines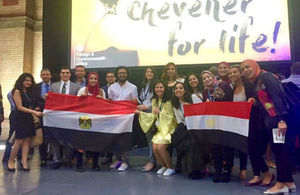 On 7 August, the United Kingdom opened the door for bright young Egyptians with leadership potential to apply to become a Chevening Scholar, as part of the UK's international, world-class scholarship scheme.
Previous Chevening Scholarship graduates include Former Deputy Prime Minister Dr. Ziad Bahaa El-Din, Vice Minister of Finance for Fiscal Policy Ahmed Kouchouk, Former Ambassador of the Arab Republic of Egypt to Rwanda and currently the new Legal Council of the African Union, Dr. Namira Negm and AUC economy professor Dr. Hania El-Sholakamy. Internationally, previous scholars have included Prime Ministers of Poland, Iceland and Bulgaria, and Presidents of Colombia and Kiribati, as well as famous novelists, film directors, judges and bankers. Last year Egypt was number one globally in the number of applications, with 5,400 applicants from all over the country, including Cairo, Alexandria, Dakahlia, Gharbiya, Al-Sharqiya, Qalybiya, Menoufia, Beheira and El-Minya. This year, embassy representatives will be touring Egypt to help interested students find out more about the scheme and its application process.
The scholarship is open to Egyptians seeking a one year Master's degree in the UK. The requirements are simple: applicants must be Egyptian nationals with an undergraduate degree, at least two years work experience, and meet an English language requirement. There is no upper age limit. The deadline for applying is 7 November 2017.
Successful scholars go on to study at leading UK universities in various disciplines, such as finance, economics, management, media, law, entrepreneurship, education, energy, environment, politics, public health and development. Tuition fees are fully funded, as well as a living allowance and flights. The scheme also provides opportunities to experience UK culture and network with future leaders from all over the world.
UK Ambassador to Egypt John Casson said:
I firmly believe that Egypt's greatest strength is its people. Chevening is about investing in future leaders and helping everyone fulfil their potential. We want to share world class British education with the brightest students from around the world.

We're proud to have increased our investment in Chevening scholarships in Egypt by 250% in the last 3 years, to meet growing demand for these scholarships. Wherever you are in Egypt, this is a chance to pursue a dream and invest in a brighter future for yourself, and for your country.

Chevening Scholars here in Egypt have gone on to do incredible things in many different fields. Every year I'm amazed at the range of people who apply: bankers, doctors, teachers, entrepreneurs. I can only encourage you to apply, whatever your background, to make this year's intake the best we've ever had.
Yasmine Zeid, a Chevening Scholar from Tema province in Sohag governorate, says:
I would highly encourage people to apply for Chevening because it is a door opener for your dreams to be fulfilled. It will give you the chance to enrich your academic background and live the UK international experience that you will never forget.
Zeid, who is studying at University of Sussex, adds:
If you want to build up your capacity and skills to make change happen one day, you will need to come and join one of the best educational systems of the world that Chevening offers.
Applications are open from 7 August 2017 until 7th of November 2017. Information about how to apply can be found here: www.chevening.org/apply
Published 7 August 2017