News story
Anzac Day 2015: Deputy Prime Minister message
On Anzac Day 2015, centenary of the Anzac Cove landings, Nick Clegg pays tribute to the "spirit, courage and bravery of those who served".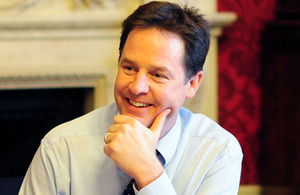 The Deputy Prime Minister said:
In the early hours of 25 April 1915, thousands of soldiers from the Australian and New Zealand Army Corps – universally known as ANZACs – landed on the beaches of Gallipoli and began to fight. They were part of a combined allied force, comprising British, Gurkha, Newfoundland and French personnel, leading the land battle for Gallipoli.

Their crossing, which had been uneventful, quickly proved to be the calm before the storm. In the months that followed, these troops would be involved in some of the fiercest fighting of World War 1.

Too many of them would never make it home. As Cyril Bassett – a sapper in the Corps of New Zealand Engineers awarded the Victoria Cross for his extraordinary bravery – said, 'All my mates ever got was wooden crosses.'

Yet, despite being tested day after day in the worst conditions imaginable, these men never lost their sense of duty or national pride. 'Give me Australians as comrades', Private Roy Denning – who served in the 1st Field Company Engineers – wrote, 'and I will go anywhere duty calls'.

For generations of Australians and New Zealanders, the spirit, courage and bravery of those who served in Gallipoli and the First World War have come to represent everything that is great about their countries.

Now a hundred years later, on this Anzac Day, we honour them and all of the Australian and New Zealand service men and women who have followed in their footsteps since.

We pay tribute to the sacrifices they and their families have made, and remember those who were injured or who lost their lives.

Most importantly, we commit to achieve a more peaceful future in their name.
Published 25 April 2015