World news story
Annual Conference of Honorary Consuls takes place in Santiago
The conference focused on the challenges of consular assistance work and discussed prevention campaigns carried out by the Consulate in Chile.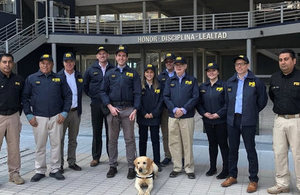 The Embassy Consular Section held the Annual Conference of Honorary Consuls in Chile earlier this month. In attendance were the Hon. Consuls from Arica, Valparaíso, Easter Island, Puerto Montt and Punta Arenas.
One of the conference aims was to discuss diverse topics of consular work such as the current consular strategy and the challenges we face when providing consular assistance. Prevention campaigns organised by the Consulate in Chile were also covered.
During the first day of the conference (9 May), the speakers were as follows:
Consuelo Cornejo – Head of the Civil Protection College, Chilean National Office for Emergencies (ONEMI), who talked about the importance of self-care and mental preparedness of first responders in a crisis
Juan Varela, a clinical and organisational psychologist, who led a session on wellbeing and mindfulness
Paulina Leiva, General Manager, and Catalina Fernández, Projects Manager, of Fundación Amparo y Justicia, who gave a presentation on the strategic alliance with the British Embassy and the new law that was passed in January 2018, which will benefit children and adolescent victims of sexual abuse in Chile.
On the second day (10 April), the Consulate worked closely with the Chilean Investigations Police (PDI) to organise the activity a "Day in the Life of a PDI officer". This was a joint effort between both institutions that allowed the Embassy's Consular Team and Honorary Consuls to learn and experience what it really means to become a PDI officer, as well as understand and internalise the great work that they do.
Further information
For more information about the events and activities of the British Embassy in Santiago, follow us on:
Published 30 May 2018