World news story
Annual address looks at achievements and challenges for Falklands
This was published under the 2010 to 2015 Conservative and Liberal Democrat coalition government
Governor delivers first annual address at invitation of Falkland Islands Legislative Assembly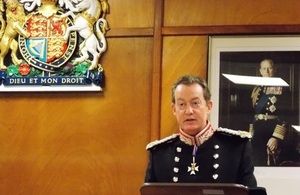 The Governor has delivered his first annual address to the Falkland Islands Legislative Assembly.
At the invitation of the Assembly, His Excellency Colin Roberts CVO attended the chamber this morning to deliver the "state of the nation" address which outlined the Falkland Islands Government's achievements over the past year and the future challenges it will have to face. The address focused on the newly adopted Islands Plan which sets out the Falkland Islands Government's aims and aspirations for the coming year with a focus on community and economic development.
Hydrocarbons development will reach an important phase in the Falkland Islands this coming year and the Governor addressed this in his speech: "Premier Oil passed a key decision gate in early 2014, and the company decided upon a 'Tension Leg Platform' concept as the best option for oil production in the Sea Lion oilfield. Detailed technical planning work continues, working closely with the Falkland Islands Government and its regulatory advisers, and the project aims to achieve sanction by mid-2015. First oil production from the field is now projected for 2019, and peak production rates have increased slightly over previous estimates.
"Significant investment also continues in offshore seismic survey work around the Falkland Islands with the most recent survey completed in February 2014, adding to the substantial investment already made during the preceding summer. The most recent survey brought the most advanced seismic survey vessel in the world to the Falklands, illustrating the significant potential of the Falkland Islands economic area."
The potential impact of hydrocarbons development on the Islands was of paramount importance to the Falkland Islands, Mr Roberts said. "The abundance of wildlife, the pristine nature of the Islands and the way of life of the Islanders are always in our minds. The Government has therefore developed a Hydrocarbon Development Policy Statement, which sets out a broad policy framework for the future development of the industry. This must be, and will be, carefully planned."
Read the full text of the Governor's address here: Falkland Islands Government.