Press release
Angler fined for public order offence in Oxfordshire
An angler has been fined after pleading guilty to abusive and threatening behaviour.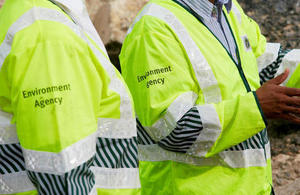 An angler has been ordered to pay £685 after pleading guilty to abusive and threatening behaviour against two Environment Agency Fisheries Enforcement Officers at a popular Oxfordshire fishing spot.
Edward O'Hara from Woolman Road in Blackpool appeared before Banbury Magistrates Court on 11 March. The court heard how during a routine licence patrol on Oxlease Lake back in 2012, Mr O'Hara was fishing with a group of fellow anglers, when the fisheries enforcement officers approached the men as part of a routine rod licence check. The defendant quickly became aggressive when the officers inspected his licence.
The police arrived on the scene after other members of the group started being obstructive and abusive to the Environment Agency staff.
The magistrates warned Mr O'Hara about his future behaviour and fined him £395 for the Section 4 Public Order offence, £200 costs, £40 Victim Surcharge and £50 compensation to one of the Environment Agency Fisheries Officers. The defendant apologised to the magistrates for his behaviour and to both officers saying that he had been
fishing for 20 years
and thought the Environment Agency
did a good job but just lost it on that day.
The Fisheries Enforcement Officer said:
I hope this sends a very strong message to anglers that Fishery Enforcement Officers will not put up with abusive and threatening behaviour and that the courts take a very serious view of it.
He added:
most anglers are a pleasure to meet but there is still a small minority who are abusive and obstructive which is really disappointing. As Enforcement Officers our job is to enforce fishery bylaws and protect rod licence income - which all gets invested back into fishing and fisheries.
Notes to Editors
Annual licences run from 1 April to 31 March.
You can buy a licence:
online, in person or by phone at the Post Office

by yearly direct debit with the Environment Agency
Offences: Used threatening, abusive or insulting words or behaviour causing that person to believe that immediate unlawful violence will be used against him. Contrary to Section 4(1)(a) and Section 4(4) of the Public Order Act 1986.
Published 13 March 2015