News story
Andrew Dunlop's speech to the WeDo Conference 2016
Speaking at WeDo's annual conference, Scotland Office Minister Andrew Dunlop voiced his commitment to help make Scotland the most entrepreneurial place in the world.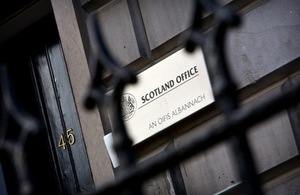 Introduction
Good morning ladies and gentlemen and thanks to Belinda for her kind introduction. I can't say how delighted I am to be here this morning in these magnificent surroundings to speak to you.
As a UK government minister I've been in what is known as 'purdah' for the last six weeks during the Scottish Parliament elections.
Purdah comes from a Persian word meaning religious seclusion.
I can't honestly say I've been practicing religious seclusion for the last six weeks or taken a Trappist vow of silence.
But it has certainly meant that the public side of government business has been put on hold.
So I must say it's nice to be allowed out again - blinking into the light - by my admirable civil service minders!
And particularly nice that my first public engagement since the end of purdah is to speak to a group of entrepreneurs.
Because Scotland's entrepreneurs have a key role to play in our country's future.
So I pay tribute to Belinda Roberts for having the foresight to set up WeDO
We live in a fast-paced world where networks matter.
And WeDO provides an invaluable network for building relationships, exchanging ideas and sharing experiences as you establish and grow your businesses.
It was also great to see entrepreneurs from across Scotland come together yesterday for the Entrepreneurs Exchange hosted in Edinburgh and Glasgow with over 40 of the nation's leading business founders coming together to give free and practical business advice to the next generation of entrepreneurs.
Entrepreneurs Contribution
I know that you are all people with drive and ambition.
And we need your drive and ambition.
We're all ambitious for Scotland.
I've said it before and I'll say it again, let's commit to making Scotland the most entrepreneurial place in the world.
Because if we're to tackle poverty, address the scourge of long-term unemployment and deliver social justice, and we must, then we need first to generate the means to achieve our social goals.
We all know from our own lives that before you decide how to spend your money, you first have to earn it. And that's where Scotland's entrepreneurs come in.
Small businesses - and by that I mean those with fewer than 50 employees - are the engine room of our growing economy.
At the start of 2015 there were a record 355,000 small businesses in Scotland - an increase of over 60,000 since the start of 2010 - responsible for around 45 per cent of private sector employment and contributing nearly £70 billion in turnover.
Indeed when Sir Tom Hunter – himself one of Scotland's foremost entrepreneurs - delivered a lecture at the Scotland Office last autumn he pointed out a little known fact that 100% of net new jobs in Scotland are created by businesses that are less than five years old.
So I'm in no doubt of the crucial role you have to play if we're to continue to build a growing and resilient economy here in Scotland.
In recent years Scotland's relative economic performance has been impressive - stronger than any part of the UK outside London and the South East.
But there is no room for complacency – the current challenges faced by the oil and gas industry are a salutary reminder of that.
And some of the most recent economic data – not least yesterday's labour market statistics – suggests that the performance of the Scottish economy is beginning to lag behind the UK as a whole.
We all need to work together to ensure this is a blip and doesn't become a trend. It reminds us of the importance of strengthening and broadening the base of Scotland's onshore economy.
Moving beyond the Constitution
That's why I for one look forward to moving on the debate in Scotland from constitutional issues.
Scotland seems to have, for the last five years, been in perpetual campaign mode.
There is of course the small matter of the EU referendum to come.
But I hope that on the morning of Friday the 24th June we can look forward to a period where governing takes priority over political campaigning.
When people can get on with their lives, and businesses can get on with doing business.
After all there will four years until the next national election in Scotland.
This provides a precious window of opportunity to focus on what opinion polls consistently tell us are the priorities for people in Scotland - creating more jobs, improving healthcare and building stronger schools.
And make no mistake; these are exciting times for Scotland.
A new parliament, with fresh powers, and great expectation about how they will be used.
The new Scotland Act, which received Royal Assent at the end of March, makes the Scottish Parliament one of the most powerful devolved parliaments anywhere in the world.
Alongside the new Act sits a new funding settlement for Scotland, giving the Scottish Government the financial tools it needs to manage its new responsibilities.
For the UK Government devolution is a matter of conviction, not political convenience.
A conviction rooted in a belief that decisions should be taken closer to the people they affect.
A belief also that de-centralisation makes it possible to shape policy to suit local conditions.
Indeed the UK Government would like to see devolution extend even further, to see not just the devolution of power from Westminster to Holyrood, but from Holyrood directly to local communities throughout Scotland.
Real, tangible, local devolution.
That's why we've been promoting UK City Deals here in Scotland, with deals signed already with Glasgow, Inverness and Aberdeen, serious discussions underway with Edinburgh and support in the House of Commons last week from the Prime Minister to take forward a Tayside City Deal.
And that's also why the Chancellor has been championing initiatives in England like the Northern Powerhouse and the Midlands Engine.
Working Together
These deals have the potential to transform local economies and re-balance our national economy.
They are also a great example of working together: National and local government; UK and Scottish Governments; Public and private sectors.
Powerful partnerships with common purpose.
As the Secretary of State for Scotland, David Mundell, said on Monday, Scotland expects the UK and Scottish Governments to set aside their political differences to work together to advance the interests of all people in Scotland.
Having the very best constitutional structures and processes in the world are of course important, but they are not sufficient.
Making them work – and making them work well - requires personal commitment and goodwill. Today's constitutional reality is no longer simply about what is devolved to the Scottish Government and reserved to the UK Government.
Today's reality is about the many responsibilities that are shared.
So it's about how we work constructively together – whilst respecting political differences.
It's about the right attitude.
It's about grown-up government, in which genuine concerns can be raised about each other's areas of competence, without offence being taken or dividing lines drawn.
This is the attitude the UK Government will be adopting over the next four years.
And I hope very much that the new Scottish Government will respond in kind.
An Enterprise Culture
Nowhere is this need to work together more vital than on how we create a climate here in Scotland in which entrepreneurs can prosper.
It's about creating a positive climate of trust and confidence that empowers people to give of their best.
We all have different ideas of what it means to be an entrepreneur.
Ideas creator, opportunity spotter, risk taker, job provider, value enhancer, you name it.
Of course an entrepreneur can be all of these things.
And let's be clear – you don't have to start up your own business to be an entrepreneur.
You can work in a FTSE 100 company and be an entrepreneur.
You can work in a business that's been in the family for years and be an entrepreneur.
And you can work for one of our great public services and be an entrepreneur.
Because the reality is – and you will know this better than anyone - that to be an entrepreneur is not a job or a profession, it's a state of mind.
It's about the restless energy always looking to improve things for the better.
It's about the sense of personal responsibility and pride to always deliver what you've promised.
Above all it's about caring for your business as if it were your own.
Now I was lucky enough 25 years ago to set up my own business.
I found the experience daunting and exciting in equal measure.
Daunted by a fear of failure.
Excited and empowered by the sense of being master of your own destiny.
It was however one of the best decisions I ever made.
Of course you make mistakes.
But you learn from them.
And as the philosopher Friedrich Nietzsche observed: "that which does not kill us, makes us stronger"!
One of the people I was lucky enough to work with closely during my business career was Sir Richard Branson - just plain Richard Branson in those days.
I learnt two things from him: dare to think the unthinkable and never ever give up; if you suffer a set-back, pick yourself up, dust yourself down and carry on.
Our ambition as a government is to cement the UK's position as the best place in Europe to start and grow a business – mine is to put Scotland at the top of the table.
So what can governments do to foster the right environment in which entrepreneurs can flourish? To my mind the first and most important ingredient is to promote and support the right enterprising culture.
Here our education system has an important part to play to give young people the confidence to pursue a business idea.
And I'm glad to see that Nicola Sturgeon has made education her top priority and backed that up in yesterday's Scottish Cabinet re-shuffle by putting John Swinney in charge.
Education is a priority for the UK Government too – transforming the life chances of all our young people whatever their background.
Earlier this week I visited Abertay University in sunny Dundee – renowned already for its pioneering work to establish an international reputation in the video games industry and to provide a bridge from academic study to the world of business.
What particularly impressed me was the innovative approach taken by the university's Business School, linking up with major Scottish and UK businesses to provide students, working together, with an opportunity to come up with creative solutions for real problems confronting those businesses.
The results from this exercise are impressive. This is not an altruistic gestrure in corporate social responsibility. It is generating real business benefits for the companies concerned.
And the key to success is creating a positive environment in which students are given the confidence to think outside the box.
This is also a challenge for our schools to rise to – in short educating for confidence.
For example, when I last met Belinda we discussed how to encourage more women to become entrepreneurs. The economic rationale is clear.
Studies have shown that equalizing female business ownership rates to those of men in Scotland could see a growth of 5% in the size of the Scottish economy.
But confidence and fear of failure seems to be a bigger barrier for women than for men when it comes to becoming business owners.
So there are cultural issues to be addressed – with mentoring and the creation of support networks having a big part to play.
Government Support
In some ways entrepreneurship is the antithesis of the "Hi I'm from the Government, and I'm here to help" mentality, but Government can help address the practical, everyday issues that confront fledgling businesses.
First, access to finance. The British Business Bank is supporting lending to SMEs – nearly 2000 start-up loans have been made to businesses in Scotland. And the Enterprise Finance Guarantee scheme has facilitated over £2.6 billion of finance to over 25,000 SMEs across the UK with over to £230m provided to companies here in Scotland.
Second, reducing the administrative burden on small businesses. In the last Parliament we saved businesses £10 billion of red tape and we want to do the same again in this Parliament. And we have also taken action to help small businesses settle disputes and challenge unfair payment terms.
Third, support for opening up new markets. We want to help more Scottish SMEs to become exporters. This a particular priority for me. That's why we're currently running the Exporting is Great campaign. And in the last year UKTI supported 50,000 businesses across the UK – 90% of these businesses were SMEs.
Fourth, help for SMEs to innovate. Innovate UK has been supporting nearly 300 innovation projects in Scotland in the last year and has been the main sponsor, working with Scottish Enterprise and other Scottish Partners, to fund Venturefest Scotland, which brings businesses, researchers and investors together to assist SMEs looking to innovate.
Fifth, a competitive business tax environment. The UK has one of the most competitive corporate tax regimes anywhere in the developed world. The UK Government has also been cutting small firms' national insurance bills through the £3000 annual Employment Allowance. Other areas like business rates are of course devolved and from next year the Scottish Government will have full responsibility for setting income tax rates and bands.
This range of policy clearly illustrates why the UK and Scottish Government need to work closely together to create a climate in which Scotland's entrepreneurs can flourish.
Each government has different levers to pull to give entrepreneurs across Scotland the support you need to thrive.
How much better it will be if we are all pulling in the same direction.
Conclusion
As I have already said the UK Government believes strongly in the decentralization of power.
Empowering the business creators and job providers of Scotland is part of this same philosophy.
I believe one of the strengths of the UK is our sheer diversity and variety. And entrepreneurs would not be entrepreneurs if you conform to a "one size fits all" approach.
Diversity and variety makes for a more dynamic economy. In many ways government is no different.
And our devolved constitution makes it possible for different approaches to be tried in different parts of the country.
This is healthy and means that one part of our country can learn from the successful experiences of another.
This also means here is Scotland that we can benefit from the best of both worlds.
Healthy competition and constructive collaboration.
Because at the end of the day this is not a zero sum game.
If London does well or Scotland does well then the whole of the UK benefits. It is not an either or. We are each part of a larger network.
The whole really is greater than the sum of the parts.
And in this highly competitive, globalized world, networks do matter. They matter a lot.
So my message to the WeDo network is simple.
Keep networking;
Keep building your business; and
Help us keep Scotland and the UK powering forward.
Thank you.
Published 19 May 2016