World news story
An insight from the British Embassy Prague
William Kennedy, a Civil Service secondee, blogs about his experience working in Prague.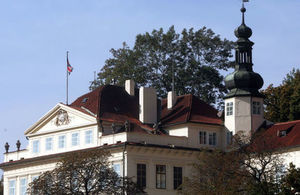 Arriving in Prague on a cold, snowy Saturday afternoon, with my phrasebook and city map in hand, I set out in trepidation to my apartment complex, wondering whether my taxi driver had understood my broken Czech. Thankfully all was fine, and I arrived at the apartment I would call home for the next three months, still slightly bemused after my taxi driver had shown me his large collection of Sparta Prague memorabilia whilst zooming through the icy streets – one hand on the wheel, the other pushing a Tomáš Rosický Panini sticker into my face.
I was in Prague for a three month secondment, where I would be working for the Office of the Government, focusing on the Digital Single Market, Smart Cities and eGovernment. Having only been working in the Civil Service for six months before I was chosen to be sent out to Prague, I was excited to compare the Czech Civil Service with its UK counterpart. Going from the large, open planned areas and hot-desking ethos of BEIS to having my own desk and a small, shared office was weird at first. However my new colleagues were quick to make me feel welcome by immediately introducing me to Beef Tartar and Moravian wine (which I recommend to anyone visiting the Czech Republic – it was surprisingly good!).
My work consisted of helping my Czech colleagues with a new Commission publication on the European Data Economy and sharing what the UK was doing in areas such as Smart Cities and the Sharing Economy. The work was very rewarding, and I felt like an appreciated part of the team. By the time my three months were up, I had worked successfully on a range of diverse and challenging topics.
My experience working for the Czech government has certainly been the highlight of my, admittedly short, Civil Service career so far. Not only were the people I got to work with brilliant, but also the wide range of tasks that I had to deal with, and the chance to work abroad and make new friends made the experience very special. Memories of strolling to work in the morning over Charles Bridge, looking up at Prague Castle before arriving at the Straka Academy are welcome distractions when I take the tube on my daily commute in London!
Although it may become more difficult to arrange these types of placements in the future, I believe the UK should still make the effort to offer secondees to other Member States, and vice versa. The feedback I received from my colleagues in the Czech Republic was a mix of appreciation and welcoming of the fact that the UK was clearly still engaged with its partners in Europe, and was still committed to working pro-actively with likeminded countries on important Single Market issues.
Děkuji za přečtení!
Published 7 June 2017