World news story
Ambassador Visits UXO De-mining Site in Phonesavanh
On his first official visit to Xieng Khouang, British Ambassador Philip Malone visited a de-mining site.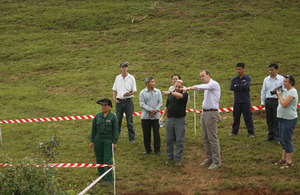 The UK, through its Department for International Development (DFID), has been supporting MAG's work in Laos since 2008. To date DFID funds have resulted in the clearing of more than 6,000,000 square metres of land and enabled MAG to nearly 15,000 items of UXO in and around Xieng Khouang.
The Embassy was briefed by MAG employees about the everyday work of the clearance and roving teams. After the briefing, the Ambassador and his team had the opportunity to witness the destruction of UXO items collected during the day. The Ambassador was accompanied on the visit by representatives of UK company Imperial Tobacco – the largest UK investor in Laos – who are also supporting MAG's clearance work through their charitable foundation.
Ambassador Philip Malone stated:
Mines Advisory Group is working tirelessly to safely and responsibly clear village after village and district after district. While the work is of course dangerous, MAG is training Lao people to work safely and efficiently to do this difficult task and we are happy to be able to support this work.
For more information about MAG's work in Laos visit http://www.maginternational.org/laos and see photos from the Ambassador's visit on the UK in Laos' Facebook page
Published 9 September 2013