Ambassador visits British-supported organic farm and community enterprise in Luang Prabang
British Ambassador to the Lao PDR, Philip Malone visited a British-supported organic farm and community enterprise, the Living Land, during his inaugural visit to Luang Prabang this weekend.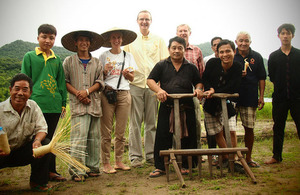 The Living Land was the brain child of young Lao villagers in the Ban Phong Van on the outskirts of Luang Prabang, to help people in their community and to preserve and explain their traditional way of life to visiting tourists.
The community enterprise features an entirely organic farm where visitors can experience the life of a Lao rice farmer and try their hand at some of their daily tasks. The farm grows organic vegetables, salads, herbs and rice and supplies leading restaurants and hotels in Luang Prabang. The enterprise also works with and supports the local community, through providing educational opportunities, providing employment to the elderly and disabled, and supporting disadvantaged families, eg: covering their medical expenses.
The enterprise is supported by British citizen Mark Schnebli who has been visiting and living in Luang Prabang for over 15 years. Mark and colleagues provided the Ambassador and Deputy Head of Mission Alex Needham with an overview of their activities and got them working up a sweat winnowing and husking rice!
Living Land Laos – now the number 1 visitor attraction in Luang Prabang according to Trip Advisor, with over 1200 visitors in its first 2 years of operation - is an excellent example of improving local people's lives through targeted tourism activities, run and developed by locals but supported by technical know-how and experience from the UK.
For more information about Living Land Laos, visit: www.livinglandlao.com
Published 13 August 2013