World news story
Ambassador to Chile's statement on Woodward case
Ambassador Jon Benjamin speaks about verdicts in trial of those accused of torture and disappearance of Father Michael Woodward in Sept 1973.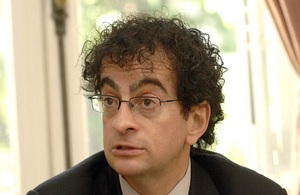 Below is the declaration by Her Majesty's Ambassador to Chile, Mr. Jon Benjamin, following the verdicts in the trial of those accused of the torture and disappearance of the Chilean-British citizen, Michael Woodward, in September 1973:
We are aware of the two convictions and six acquittals in the case of the disappearance and death of Michael Woodward almost 40 years ago. The British government respects the Chilean judicial system in general, and for having clarified the truth in this case in particular.

The suffering of Michael's family has been terrible during the intervening years, especially as they have never found his remains and therefore have not been able to give him a proper burial. If anyone involved in this case has any information on other aspects of the case, which enables the identification of others implicated in the case, including the supposed intellectual authors of the crime, or the location of the body of Michael, we urge them to come forward. The Woodward family, at least deserves the right to lay Michael to rest.

The British government has supported the Woodward family during their search for justice, and in their determination to arrive at the truth. The treatment that Michael received before his death has absolutely no justification. Whatever the political beliefs that he had during his life, there can be no justification for what was done to him. The treatment that Michael received was brutal, cruel, illegal and indefensible.

We firmly believe in the fundamental rights of human beings, and in the right of individuals to express their beliefs. It is gratifying to see these rights established in the laws and practices of Chile today. The crime of the Woodward case belongs to a Latin America of the past, and it is pleasing to see how much the region has changed since this time.

We are conscious that both the convictions and the acquittals passed down could be appealed and that any definitive sentence will have to be confirmed by the Supreme Court.

It is not the role of the British government to comment on the decisions of the Chilean justice system. However, we believe that this was a very serious crime against humanity involving a British citizen, which has caused decades of interminable suffering to his family.
Published 8 May 2013