World news story
Ambassador Shorter inaugurates UK funded projects in Tripoli
As part of his ongoing regional visits across Lebanon, Ambassador Shorter visited the Tripoli Chamber of Commerce and UK funded projects in the city.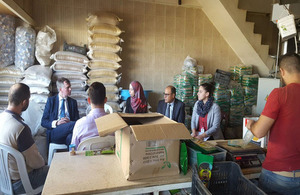 As part of his ongoing regional visits across Lebanon, British Ambassador Hugo Shorter visited the northern city of Tripoli today. The visit was an opportunity to meet with the Chamber of Commerce in Tripoli, and see firsthand two UK funded projects: 'Misso Spices' and March NGO's 'Syria Street Cultural Cafe' part of the $610 million overall support the UK provides to Lebanon's stability and prosperity. Ambassador Shorter toured the historic Citadel of Raymond de Saint-Gilles which dates back to 1103 AD, the House of Art in Mina, and laid a wreath at the Commonwealth War Cemetery.
Ambassador Shorter said after the visit:
As always, I had a fascinating visit to Tripoli today. It was an opportunity to hear from the Chamber of Commerce about projects running aimed at providing economic opportunities which will make a real difference to people's everyday lives. I reiterated our strong support to the continued unity, stability and security of Lebanon and its people. We have committed $610 million since 2011 to supporting Lebanon. I'm very proud to say that we support more than 1 in 5 Lebanese municipalities with a total of $30 million over 18 months. By 2019 we will have reached over 1,440,000 people and more than 220 municipalities.

I am very pleased to inaugurate March's Cultural blast and cafe in Syria Street: a meeting point for marginalised youth of Tripoli to use art and culture as catalysts for tolerance, reconciliation and peace building. I believe this is paying off as I saw many youths from Beb el Tebbeneh and Jabal Mohsen come together to perform in comedy plays inspired by their lives. I am proud that we, along with other donors, are playing an active role in the city's development and its constant strive for unity and tolerance among its diverse communities.

I also had the opportunity to visit the flavoursome 'Misso Spices' and had a tour of their beautiful looking and smelling spices. This family owned business since 1991 received training and support from 'INTAJ', a UK funded project run by Mercy Corps. By March 2018 we will have invested $21.6 million in this programme to support vulnerable Lebanese communities by increasing employment, training people in the skills required to get jobs, and building stronger businesses in the Bekaa and North Lebanon.

UK Aid has invested in a $500,000 project spent on renovating the Old Souk through the Lebanon Host Communities Support Project (LHSP), in the next phase we will continue the rehabilitation of the Souks with an additional $1 million benefiting 550 shops owners. I also toured the beautiful historical citadel of Raymond de St. Gilles.

During my visit I laid a wreath at the Commonwealth War Cemetery, a poignant reminder of the sacrifices made by generations past and present, and the responsibility we all share to work towards peace.
Notes to editors
INTAJ' has successfully implemented 23 skills courses in Bekaa and North Lebanon, with over 470 people trained. It also provided support to 21 businesses, 8 in Bekaa and 13 in North Lebanon in a range of sectors resulting in 107 people securing full-time and part-time employment. Nationally over the past two years and before April 2018 we aim to have trained 2,400 trainees, provided 955 livelihood opportunities and provided 40,000 households with increased access to solid waste management and recycling service provision.
Published 17 November 2017