World news story
Ambassador Shorter discusses UK's partnership with ISF
Ambassador Shorter discussed with Major General Imad Osman the British Policing Support Project and the ISF's community policing strategy.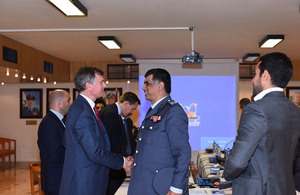 In his first Strategic Project Management Committee meeting with the newly appointed Director General of the ISF Major General Imad Osman, Ambassador Hugo Shorter discussed the British Policing Support Project (BPSP) within the framework of the Memorandum of Understanding (MOU) for £13 million agreed in June 2016. The funding supports refurbished police stations, spreads best practice in community policing, and fully incorporates human rights into the ISF's training programme with 8,000 officers who graduated last year. It will help create a modern, professional police force that complies with human rights standards and has the trust of the community it serves.
The Strategic Project Management Committee formed of Major General Imad Osman, Head of ISF Academy General Ahmad Hajjar, Head of Mobile Forces General Fouad Khoury, Head of Beirut Police General Mohamad Ayoubi, and Inspector General Joseph Kallas aims to ensure effective strategic governance and oversee timely project implementation. As well as an update on ISF activity, Major General Osman and Ambassador Hugo Shorter discussed the ISF's new Strategic Plan – to reform the ISF over the next 5 years. They also discussed the ISF's community policing strategy, and the ISF plan to transform into a police force responsive to community issues across Beirut. Human Rights was a consistent theme throughout, particularly the UK's active support to the Inspector General and his role in inspecting the ISF and investigating human rights complaints.
After the meeting Ambassador Shorter said:
I am very pleased to review with Major General Osman our strong partnership with the ISF as this institution seeks to ensure the people of Lebanon have the modern, effective and trusted police force that they deserve. Our work with the ISF, which started in 2008, is supporting General Osman's vision to build a compassionate, accountable, human-rights focused police force that is responsive to people's needs. As Minister Machnouk said last week 'The five-stage plan addresses not only the needs of the ISF, but also the future vision of the nature of security tasks that will be assigned to them after the consolidation of internal stability and the army's focus on its primary task. We fully support this vision and will work closely to offer the ISF the training and expertise they need. As one of the first visible changes, the ISF are now rolling out a new community policing model across the whole of Beirut, and all Beirutis will benefit from the new community-led approach.
Published 31 May 2017