World news story
Ambassador Philip Malone leads Lone Buffalos in 'One Day of Sport' Event
The British Embassy Vientiane is currently celebrating the legacy of the 2012 London Olympic and Paralympic Games with sporting events around Laos to mark the one year anniversary of the Games.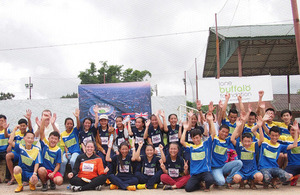 Last weekend the Embassy team joined British-run community project, Lone Buffaloes Foundation for a morning of football followed by an English language sports quiz at the Foundation's school in Phonesavanh.
The Embassy team participated in a morning of football where the Lone Buffalos men's and women's teams showed off their skills. The students then faced off in an English language quiz showing their vocabulary knowledge related to sports and the Olympics. Prizes were also awarded for an English language essay contest around sport.
British Ambassador Philip Malone commented:
The Olympics and Paralympics in London were a great achievement for the UK and we are proud to continue the legacy that the Games started with these sporting events this year. Sport provides a great platform for English language learning and we are happy to support organisations like the Lone Buffaloes that are combining these two important areas of study.
See photos of the event on the UK in Laos' Facebook page and on the Lone Buffaloes Foundation Facebook Page.
Published 2 September 2013