World news story
Ambassador Millett thanks EU Justice Reform project team
HMA Peter Millett addressed the closing ceremony of the EU Justice Reform in Jordan Project today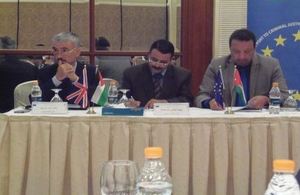 Speaking at the closing ceremony of the EU funded Justice Reform project, which has been run by a team led by UK justice professionals, supported by the UK Ministry of Justice, UK Ambassador to Jordan Peter Millett thanked the project team for all their hard work and offered further support from the UK's Ministry of Justice for this important programme of work.
The project has run for the last two years and at its closing made many important recommendations for justice reform in Jordan. Ambassador Millet noted in his speech that, as with policy reform anywhere in the world, implementation of these recommendations will now be key to delivering the benefits that citizens are looking for from their justice system. He highlighted three key areas for focus in the implementation phase, an phase which requires determination, courage and effective cross-government co-ordination.
Firstly, the new National Criminal Justice Strategy. Mr Millett said the National Committee for Criminal Justice that has already been established was an 'excellent' platform for seeing through this strategy, and he was sure it would help lead to the delivery of positive results. Secondly, he welcomed the Jordanian government's support for a new system of community sanctions and he looked forward to drafting and implementation of new legislation to support them, in coordination with all the different government ministries involved. Finally, Ambassador Millett welcomed the proposed programme of training and guidance for new public prosecutors.
Published 2 October 2014