World news story
Ambassador Jon Benjamin: "The G8 can make a real difference"
British ambassador writes in El Mercurio newspaper about the G8 Summit taking place in Northern Ireland on 17 and 18 June.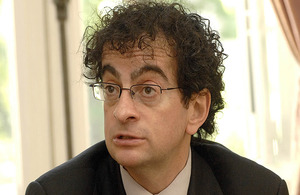 The Chilean daily El Mercurio published today an editorial by the British ambassador, Mr. Jon Benjamin, about the G8 Summit:
Today the British Prime Minister, David Cameron, is hosting the annual G8 Summit in Northern Ireland, with the Heads of State of the USA, Canada, France, Germany, Italy, Russia and Japan. With these countries still comprising half of global GDP, the bold steps we take by working together through the G8 can make a real difference by driving prosperity, not just in G8 countries, but all over the world.
At the heart of the UK's agenda for the Summit are three issues - advancing trade, ensuring tax compliance and promoting greater transparency. This is an ambitious, practical and pro-business agenda that benefits everyone around the world.
We know that trade is a driver of growth; yet there are still too many trade barriers globally. We want the G8 to show its commitment to open markets and highlight the benefits of further trade liberalisation to all countries. Particularly key this year will be agreeing a deal on the simplification and harmonisation of international trade procedures (e.g. customs) at the World Trade Organisation Ministerial meeting in Bali in December. Experts estimate this will add USD$70 billion to global GDP per year, including $4bn to Latin America alone. Chile is a crucial partner in making this happen, as one of the four volunteer countries finalising a deal at the WTO.
On tax, the G8 wants global action to bring international tax rules into the 21st century. The rules haven't changed for nearly a century and are failing to ensure global companies pay their fair share. Both tax evasion and avoidance deprive governments of the ability to provide public services that improve citizens' quality of life.
We will also put a new, practical, emphasis on transparency, accountability and open government. One focus will be on the Extractive Industries Transparency Initiative (EITI). This is a voluntary approach which, through a coalition of government, companies and civil society, provides a standard for companies to publish what they pay and for governments to disclose what they receive from the extractives industry. The UK helped launch EITI in 2003, and will formally become a member this year. 23 countries are already EITI members, including Peru, and another 16 are candidates. Chile already has strong transparency standards in mining, and would be a strong addition to the community of EITI members. Membership would benefit Chile through a further improved international image, greater understanding of the contribution of mining to the country and more readily accessible information on mining revenues. Many of the mining companies present in Chile, including Codelco, are already international EITI partners. So, we hope to see Chile playing a full part in this initiative before too long.
The location of the Summit, Northern Ireland, has been transformed by a peace process in the last two decades, following years of conflict. We hope that the G8 this year will also be able to make a lasting transformation, this time to global prosperity, through action on trade, tax and transparency.
Published 17 June 2013