World news story
Alan Duncan visits Rana Plaza survivors in Bangladesh
UK Minister for International Development Alan Duncan visits Rana Plaza survivors.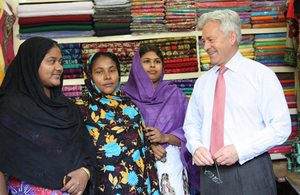 Today visiting UK Minister for International Development Alan Duncan announced the start of three projects to help improve working conditions and safety standards in Bangladesh's garment industry.
Having started the day by visiting survivors of the collapsed Rana Plaza building and the Centre for the Rehabilitation of the Paralysed in Savar, which receives funding from UK aid, the Minister of State said:
"Almost a year on from the collapse, it was inspiring to hear how the survivors have sought to maintain their dignity and re-establish their livelihoods, despite such severe, crushing injuries and psychological trauma. We can all learn from their stories.
"The factory collapse shone a spotlight on working conditions in the garment industry. We have since ramped up our efforts to improve safety and working conditions in Bangladesh's garment sector.
"We must not forget that the garment sector remains vital to poverty reduction and the economic empowerment of women in Bangladesh. It is worth over £13 billion, and provides over four million jobs for people, 70-80% of whom are women. The garment industry supports a further 25 million people.
"This is having a positive impact on social change and women's empowerment, providing them with opportunities to work outside the home, to earn their own money, help support their family and to have an alternative to early marriage."
The three projects announced by the Minister are part of the UK aid-funded Trade and Global Value Chains Initiative. These projects will:
help all levels of staff, factory owners, management, supervisors and workers, to work together to improve the working environment and productivity in their garment factory, addressing issues such as fire safety, absenteeism, working hours, take-home pay and efficiency.

provide training for middle management to improve knowledge and understanding of labour and safety standards, and how to apply these in their garment factories. This includes information about Bangladesh's new labour law, made available in an easy to use software app.

improve the healthcare and advice given to garment factory workers, training nurses who work in factory clinics to increase the range of services they provide. This will also enhance the competitiveness of garment factories as a healthier workforce helps factory performance.
By the end of his visit the Minister will have called on Prime Minister Sheikh Hasina, Finance Minister AMA Muhith, State Minister for Foreign Affairs Shahriar Alam, State Minister for Labour and Employment Md. Mujibul Haque Chunnu and political leaders. In addition to discussing a number of bilateral issues he is encouraging all political parties to work together urgently to strengthen democratic accountability and to put an end to the damaging 5-year cycle of electoral violence and instability.
The Rt Hon Alan Duncan MP was appointed Minister of State for International Development in May 2010. He has been the Conservative MP for Rutland and Melton since 1992.
The UK government has been co-ordinating action in Bangladesh with UK businesses, which are keen to address the issues involved.
The Centre for the Rehabilitation of the Paralysed (CRP) provides medical care (both outpatient and in hospital), counselling, vocational training, rehabilitation and other support to people with disabilities. CRP is helping spinal injury and amputee victims of the Rana Plaza factory collapse. The UK Government supports CRP through its Creating Opportunities for the Poor and Excluded (COPE) programme. Under the COPE project the organisation will reach another 13,000 new beneficiaries by 2016. Total UK aid to CRP is £940k between 2003 and 2016. To date this has directly benefitted around 111,471 people.
£1.8m million of UK aid is supporting the Trade and Global Value Chains Initiative for partnerships between buyers, factory owners, and civil society to improve working conditions. This builds on the Responsible and Accountable Garment Sector Challenge Fund which has been supporting projects to improve conditions of vulnerable garment workers. The three new projects that are starting are Benefits for Business and Workers in the Bangladesh RMG Sector, the UPSKILL Project – Bangladesh and the HER PROJECT.
This is in addition to existing UK-supported measures including £4.8 million for the International Labor Organisation's 'Improving the Working Conditions in the Ready Made Garment sector in Bangladesh' programme to improve fire safety and protect workers. This launched in October and is helping to implement the national action plan agreed by the government, workers and employers' representatives. The ILO programme has already made progress:
200 preliminary structural, fire and electrical inspections of garment factories have been completed. Over the next year, we will support the inspection of the remaining 1,300 factories which will not be inspected by the brand initiatives (Accord and Alliance), which will cover 2,000 factories between them. We are exploring options for improving the long term building inspection regime.

We are supporting the establishment of a transparent, credible and efficient Inspectorate of Factories with a cadre of professional labour (factory) inspectors whose job is to enforce the new Labour Law. The Government of Bangladesh has upgraded its factory inspectorate and now has 135 inspectors in place, with a further 200 promised in the next few months. The ILO is developing their training programme which will be starting soon (introductory training and needs analysis completed).

Rehabilitation services for Rana Plaza survivors including counselling and training for alternative livelihoods have started, co-ordinated by the new Savar Co-ordination Cell.

Occupational health and safety training for factory employees, and a media awareness campaign is in development. This will include working with the new Factory Health and Safety Committees which are now mandated by law, and the Workers' Participation Committees.

The Better Work programme will launch mid-2014 and will focus on strengthening dialogue between workers and management at the factory level and nationally.
Published 2 April 2014
Last updated 2 April 2014
+ show all updates
Remove few background word and bullets from the body text.
Add priorities.
First published.