News story
Advertising Standards Authority (ASA) Adjudications
The Intellectual Property Office (IPO) recently filed two complaints with the ASA in relation to misleading mail from Trademark Renewal Service Ltd and Patent and Trademark Agency Ltd.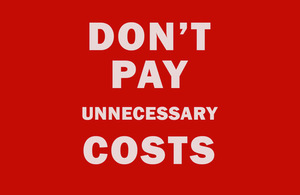 In both instances the ASA has upheld that the advertisements breached the Code in 4 out of the 5 points that were raised by the IPO. The full report is available on the ASA website
This is the second time that Trademark Renewal Service Ltd has been subject to a ruling by the ASA. The earlier ruling was published by the ASA on the 5 June 2013.
Since last year trading standards are acting as legal backstop for the ASA. This means that trading standards will consider taking action against persistent offenders who break the rules through misleading, aggressive or otherwise unfair non-broadcast advertising.
We are continuing to work closely with Newport trading standards, lawyers and the City of London Police to stamp out the problem of misleading mail.
Published 31 December 2014
Last updated 5 January 2015
+ show all updates
The following text has been added: If you receive a misleading invoice, we would like to hear about it and see a copy.
First published.