World news story
Addressing violence against women and girls in Bangladesh
International Development Minister Lynne Featherstone launches Safe Cities for Women campaign and sees how UK aid is making a difference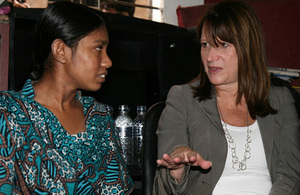 Today visiting UK minister for international development Lynne Featherstone met women and girls in Manikganj and Mirpur. She saw how UK aid is contributing to their education and security, helping them to support their families, and supporting their communities in reducing violence against women and girls, including preventing child marriage. She also launched the Safe Cities for Women campaign, a joint project with ActionAid to mobilise communities and offer support to victims of violence.
The minister started the day in Manikganj, hearing from families how the installation of solar electricity systems in their homes, with UK aid support, was allowing their children to study longer, providing better security at night and providing jobs for over 1000 women who have been trained to install the systems.
She went on to meet a community group of women and girls at Rahmat Camp, a slum in Mirpur that is home to 12,000 people. They talked about how, by working together with the support of UK aid, they are helping prevent violence in their community. At the launch of the Safe Cities for Women campaign, the minister recalled her discussion with Shabnaz, one of the girls who lives at Rahmat Camp:
"She told me how her father had been about to marry her off at 14. She went to a leader of her community group, Dolly, and asked for help. Dolly talked to Shabnaz's father and shared with him the impact that early marriage would have on Shabnaz's health and well-being, on her entire future. The marriage was called off and Shabnaz is continuing her studies.
"We are working hard to make sure that girls like Shabnaz stay safe in their homes and communities, and that they can claim their right to a secure and happy childhood, and a life free from violence and poverty. Only by working together will we be able to make the elimination of violence against women and girls a reality in Bangladesh and around the world."
UK aid is matching funding for ActionAid's 'Safe Cities for Women' campaign. It will run in Bangladesh, Burma, Kenya and Zimbabwe, helping directly over 60,000 men and women, boys and girls worldwide and reaching a total of around 2.8 million people in Bangladesh. A study conducted by ActionAid on safety and security of women in 7 cities in Bangladesh found over 49% of women and girls surveyed do not feel safe in the city or when using public transport. Over 14% said they feared sexual violence in the workplace. The project aims to:
highlight sexual violence against women and girls living in urban areas.

provide a platform for women and girls to make their experiences of sexual violence in cities recognised, understood and acted upon.

help men and boys to understand and reject social norms and behaviours that support violence against women.

gather evidence to influence national policies on violence against women.

train office holders in the police, education and transport authorities in how to prevent and respond to violence against women.
Yesterday at the Bangladesh Girl Summit, the minister encouraged people across Bangladesh to campaign against violence against women and girls and help end child, early and forced marriage. The summit was a follow-up to the Girl Summit held in London in July, which resulted in over 470 governments, organisations and individuals signing a charter calling for an end to female genital mutilation and child, early and forced marriage, and 170 commitments made to take action. An international team will be created to track progress and report annually.
During the visit the minister also met Finance Minister AMA Muhith, Minister for Women and Children Affairs Meher Afroze Chumki, State Minister for Foreign Affairs Md Shahriar Alam and Speaker of the Parliament Dr Shirin Sharmin Chaudhury. She commended the Bangladesh government's work to address violence against women and girls. She also encouraged Bangladesh to take forward the commitments it made at the Girl Summit to end child marriage.
Background
Tackling violence against women and girls is a priority for the UK in Bangladesh and around the world. The UK government's Department for International Development has set out a strategic vision aiming to give women and girls the ability to live free from violence, and to support their education, health and economic empowerment so that they can achieve their full potential. In Bangladesh, UK aid is supporting victims of violence as well as helping to prevent and stop violence before it starts. This includes providing medical assistance to victims, improving access to security and justice through victim support centres and community legal services, supporting safety in the workplace, and raising awareness of women's rights.

The Safe Cities for Women campaign is a £1.4 million project created by ActionAid and 50% funded by UK aid. In Bangladesh it will work in close collaboration with the government of Bangladesh, including the Ministries of Home, Information, and Women and Children Affairs. The project will work in 5 slums in Narayanganj District but the campaign will be nationwide.

The Urban Partnerships for Poverty Reduction Programme (UPPR) is improving the livelihoods and living conditions of 3 million poor people in 23 major cities and towns across Bangladesh, including in Rahmat Camp in Mirpur. UPPR helps communities to organise themselves into community development committees, which then identify their own priorities and how to use the Settlement Improvement Fund (SIF) and Socio-Economic Fund (SEF). The former pays for clean water supplies, better sanitation, sealed paths and improved drainage. The SEF provides grants to start businesses, funds apprenticeships and training, supports children to stay in school, promotes good health and nutrition and tackles domestic violence and early marriage. Support is targeted at poor, vulnerable and excluded women and children. Through the 7-year programme:

700,000 households (3 million people) are joining community development committees
195,000 households are gaining access to safe water, 173,000 households access to toilets, and 400,000 households access to improved drainage and footpaths
Over 64,000 women and men are receiving skills training and over 115,000 women grants to start up small enterprises
Over 95,000 years of education is being supported for girls and boys working to achieve primary and secondary school certificates.

The Solar Home Systems are part of the UK aid Clean Energy Programme. The systems are providing access to clean, solar energy to more than 5 million people in poor rural communities. Infrastructure Development Company Limited (IDCOL) provides subsidies to poor households to purchase Solar Home Systems and other solar technology. Each installation provides households with enough energy for 2 to 3 household lights and a mobile phone charger. UK aid is helping to expand the project, which has already reached more than 3 million rural households in Bangladesh. The Clean Energy Programme is also supporting the development of the solar energy market in Bangladesh, piloting solar powered lanterns and working with the government of Bangladesh to develop its renewable energy policy.

The UK government is also developing a £25 million programme to prevent child and forced marriage in 12 developing countries, including Bangladesh. We are working with Canada and the Netherlands to fund this joint programme with UNICEF and the United Nations Population Fund. In the next few months it will start to identify priorities and actions.

At the Girl Summit in London in July, the government of Bangladesh committed to:

Develop a national plan of action by the end of 2014.
Revise the 'Child Marriage Restraint Act 1929' by 2015.
Make sure no marriage is taking place below the age of 15 by 2021.
Reduce the number of girls getting married between 15 and 18 by more than one third by 2021.
End child marriage completely by 2041.
Published 28 October 2014