Press release
Action to strengthen governance in Doncaster council
New arrangements for all-out councillor elections at Doncaster council to tackle public concern over governance.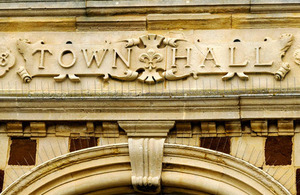 The Secretary of State for Communities and Local Government has announced today (17 July, 2013) he intends to put in place arrangements for all-out councillor elections at Doncaster council, as part of the package of government measures to tackle public concern over the governance of the council.
The Secretary of State intervened at Doncaster Metropolitan Borough Council in 2010 in response to an Auditor report that identified 15 years of failure with dysfunctional politics, poor services and ineffective leadership.
Changes will put an end to elections for one-third of the council in 3 out of every 4 years which, in this particular council's case, has aggravated problems of instability and a failure to plan strategically. The change will be implemented for the 2015 local government elections.
As part of the 2010 intervention, the Secretary of State appointed 3 Commissioners and a Recovery Board to oversee the council. The Commissioners have recently reported that while Doncaster has made some progress, its recovery is still fragile. They have recommended that the Secretary of State provides for all-out (whole council) elections in Doncaster to be held every 4 years, ultimately at the same time as the mayoral elections.
The Secretary of State shares the Commissioners' view that changes to the arrangements for electing the members of Doncaster council are essential. The Secretary of State is also clear that Doncaster council must improve its arrangements for holding meetings, in particular meetings should be held at times that enable people to attend, including those in full-time employment, as this will help all parties to attract councillors from a wide variety of backgrounds.
Local Government Minister Brandon Lewis said:
It is important that local authorities do all they can to attract councillors from a wide variety of backgrounds. One of the problems facing people of working age is that councils with meetings during the day can be very difficult for them to attend. I hope these practical proposals will help improve the quality of governance in Doncaster and ensure local taxpayers are represented by a good mix of local councillors.
Notes to editors
The Secretary of State will need to use his powers to change the years in which ordinary elections of councillors are held by order. This power is contained in section 87 of the Local Government Act 2000; section 86 permits the Secretary of State to change the scheme for elections for any council specified in the scheme. Such a council has to be a principal council as defined in section 84, that is to say a county council, a district council or a London borough council.
To date, 4 orders have been made under this power, one of which was for Stoke-on-Trent in 2009 when the council was in intervention – the decision was taken in that case to move the council to all-out, whole council elections to strengthen the effective operation of the local political democracy.
There are no financial implications. For the council, based on election costs of an average £1 per elector, Doncaster will save £225,000 in each year there is no election (£450,000 in each electoral cycle). Further savings will be made in the future due to the reduction in the number of councillors.
Published 17 July 2013