World news story
Action & Mystery exhibition inspired by GREAT British icons
Successful partnership between AKTO and Middlesex University celebrated in art exhibition.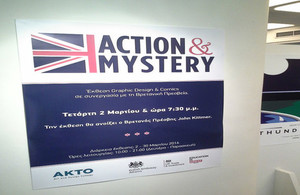 The exhibition, showcasing the work of AKTO College's Graphic and Comic Design students, was inspired by quintessentially British icons Sherlock Holmes and James Bond. For decades both these characters have brought millions of people in contact with Britain, the British way of life, British culture. Spectre achieved record box office numbers in the first 4 days of showing in Greece while the new Sherlock Holmes series is vastly popular with Greek audiences of all ages.
Opening the exhibition, British Ambassador John Kittmer addressed students, selected guests and journalists. He referred to the impressive contribution of both these British icons which have evolved to reflect creative and technological innovation.
One only has to compare the novels of Ian Fleming with Spectre or the stories of Arthur Conan Doyle in 19th century London with Benedict Cumberbatch. Sherlock has replaced his deerstalker hat for a Smartphone and Dr Watson has his own blog.
The UK creative industries sector is one of the most dynamic:
It is worth £84 billion per year
employs over 1.7 million people
contributes £10 million/hour to the British economy
sales of digital and physical books reached £4.3 billion in 2014
the UK publishes more books per inhabitant than anywhere else in the world with 220,300 titles released in 2014
the UK is largest exporter of physical books in the world
The evening continued with a presentation by Mr Spilios Labropoulos from Public who highlighted the effect both these characters have had on pop culture globally. Public also showcased a wide range of UK publications around James Bond and Sherlock Holmes representing a number of top UK publishers:
Pan Macmillan
Titan Books
Penguin
Ebury
Oxford University Press
Harper Collins
Vintage Books
Like Bond and Sherlock Holmes, British culture and creativity is a captivating blend of old and new, avant-garde and traditional, offering a vast range of experiences and attractions. A big part of the creative industries' success is down to the high quality of education offered by British universities and collaborating colleges around the world. The successful partnership between AKTO and Middlesex University offers young people in Greece the opportunity to explore their creativity and prepare for success in the global creative industries market.
Education and creative sector partnerships between the UK and Greece have existed for many years. There is always opportunity for UK organisations, companies and institutions to enter or expand in a market eager for top level education, vocational training and accreditation. If you are interested in entering or expanding into the Greek market please contact:
Caterina Drossopoulou, Senior Trade Advisor,
UKTI Greece
+30 210 727 2744
caterina.drossopoulou@fco.gov.uk

Published 7 March 2016