World news story
Acclaimed UK film producer inspires young Lao entrepreneurs
Lord Puttnam shares his experiences in film, education and innovation with young Lao entrepreneurs in interactive discussion.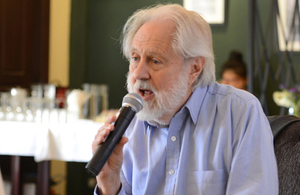 As part of an official visit in his capacity as the UK Prime Minister's Trade Envoy for Cambodia, Laos, Vietnam and Burma, Lord Puttnam drew upon a career's worth of experience today during an interactive discussion with young Lao entrepreneurs in Vientiane.
Lord Puttnam is an Oscar-winning film producer, best known for films such as Chariots of Fire, The Killing Fields and Midnight Express. After thirty years in film production he retired in 1998 to focus on his work in public policy, concentrating on education, the environment, and the creative and communications industries.
The discussion entitled "In conversation with David Puttnam: Creativity, innovation and entrepreneurship in a Lao context" was co-organised by a group of young Lao entrepreneurs and the British Embassy Vientiane. The audience was made up of young people involved in a variety of different fields, from business, the entertainment and sports industries and social enterprises. Guest of honour at the event was Senior Vice President of the Lao National Chamber of Commerce and Industry (LNCCI) Mr Sounthone Phommachack.
In his address, Lord Puttnam shared his own experiences in the film industry, education and public policy fields focusing on why innovation and entrepreneurship are important for the future of Laos particularly as the Lao PDR joins the ASEAN Economic Community (AEC) next year.
Lord Puttnam's dialogue was followed by short presentations by Mr James Kennedy, Director of International Office at Warwick University in the UK and young entrepreneur Mr Kabkeo Thammavong. The audience had the opportunity to ask questions during the following Q&A session as well as more informally after the discussion.
In a recent ADB funded study, the Lao PDR ranked the most efficient country in ASEAN for turning creativity into tangible innovations that benefit their economies. The Creative Productivity Index launch in August of this year, aims to give policymakers in Asia a tool to assess how best to foster innovation and creativity in the regional economies. The index ranked Laos as the 9th country out of the total 24 economies around the world, becoming the top country in ASEAN.
Published 16 October 2014