World news story
Academics of Oxford University visited Chile
The delegation was led by Prof Ngaire Woods, inaugural Dean of the Blavatnik School of Government at the University of Oxford.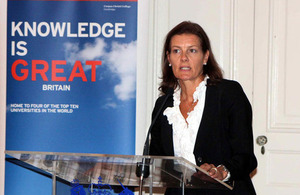 On 5 September, the British Ambassador, Jon Benjamin, hosted a reception at his Residence on the occasion of the visit to Chile of Prof Ngaire Woods, inaugural Dean of the Blavatnik School of Government at the University of Oxford. Prof Woods visited the country to strengthen the School's relationships with Chile – with practitioners, academics, prospective students, and partners. The School already counts on Andrés Velasco as a Senior Academic Advisor and Andrónico Luksic as a member of the School's international advisory board.
The Blavatnik School of Government, founded in 2010, is one of the newer parts of Oxford University. But despite its young age, the School is already an academic heavyweight. It aims to equip those in public service with the skills to navigate the complex challenges of the 21st century. Be it in teaching – where Blavatnik students learn from Oxford's top scholars; research – looking at cutting edge issues in public policy; or partnerships – where the school has built a strong network of partners, supporters and peers, the School is having a real world impact.
The reception was attended by 50 guests, including the Under-Secretary of Transport, Rectors of several universities and Oxford alumni, including the leader of the first South American summit of Everest.
As part of her programme, Ngaire also gave a public lecture "The Backlash Against Globalisation", at Universidad de Diego Portales. The lecture provided an opportunity for prospective students and members of the public to meet the Dean and hear firsthand some of her latest thinking on the benefits and challenges of living in a globalised world.
Ngaire said 'Reaching out to prospective students in Latin America is critically important for us at the Blavatnik School. We're just about to open admissions for the third cohort of students for our Masters in Public Policy, and we're keen to see more applications coming from the very best candidates in Latin America. As a school committed to taking a global approach to public policy, we want to see that reflected in our student body."
Ambassador Jon Benjamin said "We are constantly looking to build links between the UK and Chile, and education is no exception. It's been great to welcome such a venerable institution as Oxford University to Chile, and this fits with the trend we are seeing of more and more interest in Chile from British universities keen to build their international links".
More information:
For more details about this activity, contact Karl Zammit-Maempel at the British Embassy, Santiago.
For more information about the activities of the British Embassy in Santiago, follow us on:
Published 6 September 2013