Press release
A64 full weekend closures, Staxton Crossroads to Eastfield Roundabout
Work on a £3.3 million scheme to improve journeys for drivers in Malton and Scarborough, North Yorkshire, by resurfacing the A64 between Barton Hill and Seamer is progressing well following earlier delays due to poor weather conditions.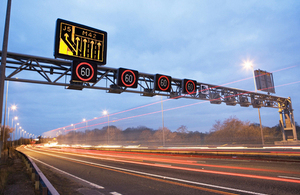 The work includes patching and resurfacing the carriageway, renewing road markings and roads studs, reinstating traffic loops and bridge joints, and renewing damaged road gullies. We will also take the opportunity to carry out any other essential maintenance work within the closures to maximise the benefits to drivers.
Highways Agency project manager Steven Wright said:
Due to a number of factors including poor weather conditions we had to cancel a number of scheduled weekend closures in December and January. Work during the week has been taking place as planned.

This is essential maintenance work which will improve the road surface and safety for road users. It will also minimise the need for future work at these locations. The remaining weekend road closures are required to allow us to carry out sections of deep resurfacing, which will mean there are large excavations in the carriageway. During the closures diversion routes will be clearly signed and drivers should allow extra time when travelling in the area.
Variable messaging signs and advanced warning signs will be put up 2 weeks before work starts on each phase. Businesses and residents affected by the closures will all be contacted to explain the arrangements to maintain access to properties.
Work will take place on the following dates but are subject to change as the work requires suitable weather conditions:
Pickering Interchange to Brambling Fields - 9 to 12 March & 16 to 19 March, 23 to 29 March
Overnight closures of the A64 Brambling Fields eastbound entry and exit slip road. At times there will also be lane closures, temporary traffic signals and convoy working on the A64 eastbound carriageway from 8pm to 6am. Traffic will be directed to use the B1248 and B1257 through Malton.
Barton Hill Crossroads - 30 March - 1 April
There will be A64 westbound lane closures, with temporary traffic signals and convoy working in place between 8pm and 6am.
Staxton Crossroads to Eastfield Roundabout – weekend closures
There will be three full weekend closures of the A64 between Staxton roundabout and Seamer roundabout, from 8pm on Friday evening until 6am on Monday morning on:
6 to 8 March
13 to 15 March
20 to 22 March
During the weekend and overnight closures eastbound traffic will be diverted north at the Pickering Interchange along the A169, east at Pickering along the A170 and at East Ayton traffic is signed to follow the A170 to Scarborough or along the B1261 (Seamer Road) to re-join the A64.Westbound traffic is diverted along the reverse of this route.
More information about the work can be found on the Highways Agency website at http://www.highways.gov.uk/roads/road-projects/A64-Carriageway-Resurfacing-Works-between-Barton-Hill-and-Seamer
During the roadworks drivers are advised to plan their journeys and allow more for travel. Drivers can get up-to-the-minute travel information by phoning the Highways Agency Information Line on 0300 123 5000 or by accessing the Agency's website: www.highways.gov.uk/traffic Drivers can also download the Highways Agency's iPhone app or follow updates via Twitter at @HAnews_yorks
General enquiries
Members of the public should contact the Highways Agency Information Line on 0300 123 5000.
Media enquiries
Journalists should contact the Highways Agency press office on 0844 693 1448 and use the menu to speak to the most appropriate press officer.
Published 6 March 2015