World news story
A UK visa is just five steps away
UK Visas & Immigration launch new video aimed at first time visitors to the UK.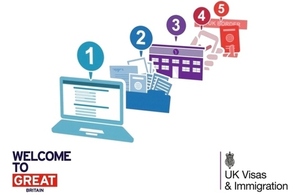 In order to reassure first time visitors to the UK that the visa process is straightforward, UKVI has launched a new video to explain each step of the process - from filling out the form online, giving finger prints at the visa application centre, to receiving the visa.
A UK visa is just five steps away
The number of Indonesian visitors coming to the UK continues to grow and in the year ending June 2015 we issued 33,879 visit visas to Indonesian nationals – a 2% increase on the previous 12 months.
UKVI has also expanded its popular Priority Visa Service to all customers applying for a UK visa in Indonesia, removing the previous qualifying criteria, and for the first time now offers it at the UK visa application centre in Bali.
Customers who opt for this service will see their applications placed at the front of the queue with the aim of providing a visa decision within three to five working days. This means they get their decision more quickly than a similar standard application made on the same day.
British Ambassador to Indonesia, ASEAN and Timor-Leste, Moazzam Malik, said:
We already receive around 34,000 Indonesian visitors to the UK every year. But we hope to see many more tourists, businesspeople, and students travelling in both directions. Not only do Indonesian visitors contribute to our economy through tourism, they also bring back good memories and relationships that underpin the growing partnership between our two countries.

The launch of this video and expansion of the Priority Visa Service are further examples of the improvements we are making to the visa service to make it quicker and easier for Indonesian visitors to apply for a UK visa.
The UK has two Visa Application Centres in Indonesia and continues to make improvements to make the service more user-friendly.
Popular optional services introduced in recent years include the passport passback scheme, which allows customers who travel regularly or who are applying for two visas at the same time to keep hold of their passports while their visa application is being processed.
Notes to editors:
For press inquiries and further information on UK tourism, please contact Strategic Communications Officer Putri Wulan Tary at putri.wulan@fco.gov.uk.
We are continuously improving the service we provide to our Indonesian customers.
In the year ending June 2015, 96% of Indonesian nationals who applied for a UK visa were successful. During the same period the average processing time for a non-settlement visa was nine days.
Last year, almost 11,000 customers in Indonesia used the 3-5 Day Priority Visa Service. Until now, it has only been available in Jakarta to certain categories of applicants:
Business visitors their spouses and accompanying children (under 18).

Tier 1, Tier 2, Tier 4 (child and general) and Tier 5 visa applicants, their spouses and accompanying children (under 18).

Visitors, (their accompanying spouses and children under 18) who have travelled in the previous two years to either the UK, USA, Canada, Australia, New Zealand or to a country in the Schengen Area.

Seafarers joining cruise ships as crew.
This Priority Visa Service does not imply or guarantee that visa applications will be successful. All applicants must still meet the requirements of the UK Immigration Rules. We do not offer a refund if a visa application is refused or if the application takes longer to conclude.
The fee for using the 3-5 Day Priority Visa Service is currently IDR 2,640,000 (£120). This is in addition to the cost of a visa application.
Last year we made several operational changes to speed up the application process, including moving the processing centre from Bangkok to our larger visa hub in Manilla.
We offer a number of other optional services for customers:
SMS and e-mail updates to allow them to track their application.

A Prime Time service in Jakarta if they want an appointment outside our usual opening hours.

A VIP Lounge for quicker, personal service at our visa application centre in Jakarta.
We have Indonesian guidance pages on gov.uk and a visa enquiry service with phone, email and web-chat options in English and Bahasa.
We strongly advise customers to leave 15 working days – our service standard – for a decision to be made. Our current visa processing times can be viewed online here.
Applicants should always check what visa they need before applying at www.gov.uk/check-uk-visa
Published 21 September 2015