World news story
A programme launch on transforming teacher education and learning in Ghana
The programme aim to reform and improve the teacher education sector through a four year commitment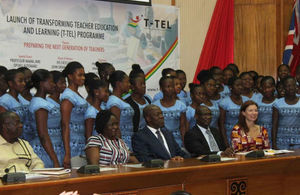 Government's Four-Year Commitment - 35,000 High-Quality Teachers For Ghana New Programme Aims To Transform Teacher Education
Wednesday 2 December 2015 - The Government of Ghana has today committed to ensuring 35,000 well-trained,empowered teachers will be posted in classrooms across the country over the next four years. The pledge comes as an ambitious programme, Transforming Teacher Education and Learning (T-TEL), is launched to transform the quality of teacher education in Ghana by turning the country's 38 Colleges of Education into "Centres of Excellence".
The United Kingdom through its Department for International Development (DFID) is providing £17 million - over 90 million cedis - over the next four years (2015-2018) to help deliver this transformation in teacher education for Ghana.
The Acting Head of DFID Ghana, Lynne Henderson said:
"Ghana has made great strides in improving enrolment in primary schools. Having succeeded in getting children into school we now need to ensure that those children receive quality education - to best set them on the road to a prosperous future".
Whilst access to education has expanded significantly in recent years, quality teaching has not kept pace with the changing needs of a modern nation, and students lack proficiency in the basics, including maths and English. The T-TEL programme will: * Support and develop College Tutors to help more than 35,000 teachers achieve the highest standards in the classroom; * Support Colleges of Education to become 'Centres of Excellence' through improved leadership, governance and training; * Build a coherent teacher education sector through improved coordination, research and policy between national institutions; * Support curriculum reform for better teaching, assessment and learning outcomes; * Ensure student teachers experience practical teaching in the classroom before they graduate; * Promote female teachers' excellence and prioritise girls' education in Ghana's classrooms; and * Provide funds to promote innovation and reward high quality training.
Vice President Paa Kwesi Amissah-Arthur, launching the programme today on behalf of the President said:
"This Programme is a recognition that for our nation to maintain its fragrance and competitiveness the quality of teaching and learning must improve.
Teachers are critical to the growth of nations. For our nation to prosper teacher education must keep pace with complexity of modern life"
T-TEL is working directly in all 38 Colleges of Education through the Ministry of Education and with the Ghana Education Service and other key institutions such as the National Teaching Council (NTC), the National Council for Tertiary Education (NCTE), the National Accreditation Board (NAB), the National Inspectorate Board (NIB), the Universities of Ghana (UoG), Cape Coast (UCC) and Winneba (UEW).
Notes to Editors:
The UK is a committed partner in Ghana contributing £300 million from 2011/12 to 2015/16. We have distributed 5.5 million bed nets, supported 140,000 children in basic education, assisted 170,000 of the poorest people through cash transfers, and supported 550,000 women with family planning. By the end of 2015-16 we will also have helped keep 80,000 girls in secondary school and 30,000 producers to access business services.
To find out more visit www.t-tel.org or contact Transforming Teacher Education and Learning (T-TEL) via:info@t-tel.org
Published 3 December 2015