World news story
A message of trade and prosperity : Adam Afriyie's remark on Ghana at 60
Adam Afriyie, the Prime Minister's Trade Envoy to Ghana offers a congratulatory message marking Ghana's 60th anniversary.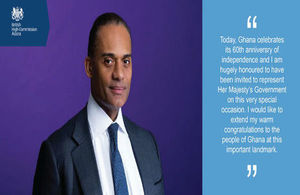 Today Ghana celebrates 60 years of independence; I am hugely honoured to have been invited to represent the Government of the United Kingdom on this very special occasion and would like to extend my warm congratulations to the people of Ghana at this important landmark.
This is a time for Ghana to reflect and take stock. Ghanaians can be proud of their many achievements over the last 60 years, not least of their well-deserved reputation as 'a beacon of democracy'. It is also a time to look forward to a period of even closer mutually beneficial collaborations with old friends and allies around the world. Including the UK!
When the Prime Minister appointed me Trade Envoy to Ghana I was thrilled. I hold deep affection for this country and, with a Ghanaian father, I have been a regular visitor over the years. It is good to be back again today on my third visit this year to promote UK trade expertise and capabilities which offer Ghanaian businesses world class solutions to global market challenges.
Monday 13th March, also marks Commonwealth Day. Across the world the 52 member states in the Commonwealth family will celebrate our shared commitment to peace, democracy, and equality. The Prime Minister has been clear that a re-invigorated Commonwealth is a priority for Global Britain. As one of the founding fathers of the Commonwealth I hope to see Ghana playing a key role in the coming years.
And, of course, there are already strong ties that bind us: a large British-Ghanaian Diaspora community, shared values, a shared outlook, and thriving bi-lateral trade. In 2015, the total bilateral trade in goods and services amounted to almost £1bn.
Over the last year I have seen how British companies have emerged to become key partners in the oil sector; in telecommunications networks across the country; in the financial services sector; and in the cocoa industry and other areas of agribusiness. The future of the UK-Ghanaian relationship is built on firm foundations.
The Ghanaian government is focussed on improving the ease of doing business and on creating the right environment to encourage local and international investment. The UK would like to support this initiative and continue to assist where we can in advancing economic development and business reform in Ghana. Britain is a global centre of excellence in many areas including: architecture: digital technologies and professional services such as cyber security; fintech and general consultancy services; academia; healthcare; renewable energy; and Oil and Gas and mining supply chain. UK expertise can help the government's plans for industrialisation and prosperity.
Our links provide a solid basis for increasing our bilateral trade and I hope to see mutual prosperity and friendship grow between our two countries. I am sure we will continue to have a fruitful and constructive relationship.
Adam Afriyie MP is the UK's Prime Minister's Trade Envoy to Ghana
Published 6 March 2017