World news story
A first class UK visa service
The UK's brand new visa application centre was officially opened today by the British Ambassador, Iain Lindsay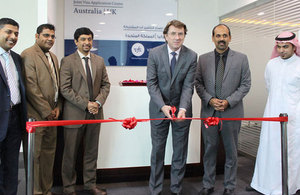 The centre is custom-designed to put high levels of customer satisfaction at the heart of the UK visa application process.
For the first time in Bahrain the new application centre features a VIP lounge, for an additional fee, which provides a more comfortable and personalised service with stunning views of the Manama skyline.
The application centre is located in the newly constructed Diplomatic Commercial Office Towers, one of Bahrain's most exclusive commercial complexes, in a prime location in the diplomatic area close to the Diplomat Radisson Hotel. The centre provides great accessibility for customers with a free 700 space car park.
The British Ambassador, Iain Lindsay, said:
It is a pleasure to officially open this centre today, which will really provide a first class experience for our highly valued Bahraini customers. The UK's popularity as a destination for leisure and business continues to increase significantly and we hope that the improvements at the new application centre will help to maintain the trend.
Matt Heath, Regional Director for UK Visas and Immigration said:
The new centre is a critical part of our drive to improve customer experiences. In the past few years we have moved to a modern online system and introduced additional premium and priority services. The upgraded application centre and VIP lounge complete the transformation, providing a really warm welcome to our customers in Bahrain.
Published 8 April 2014