News story
A day of discovery for Scottish Secretary
Independence referendum on the agenda as Scottish Secretary Michael Moore visits Dundee.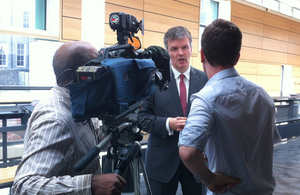 The independence referendum, tax relief for Scotland's video games industry and a bid to become the 2017 City of Culture were among the items on the agenda for the Secretary of State for Scotland as he undertook a day of engagements across Dundee.‬
‪The Secretary of State's day began by visiting YoYo Games. Founded in 2007, YoYo Games is best known for "GameMaker: Studio", which is credited with being the world's most widely used game development software. The company announced in April this year that it intended to expand and double the number of staff. ‬
‪During his visit, Mr Moore was given a tour of YoYo Games' new Dundee Waterfront office and also took part in a roundtable discussion with games industry representatives focusing on access to finance and skills.‬
‪The Secretary of State said:‬
The United Kingdom is world renowned for the talent, creativity and innovation of its video games sector. Through Abertay University and companies such as Guerrilla Tea, TAG and YoYo, Dundee is at the foundation of our success.‬

‪This is however a highly competitive and dynamic global industry. That is why the UK Government is committed to introducing video games tax relief and by using our strong voice in Europe we want to ensure this happens as quickly as possible Together with the £16 million of new funding announced in this year's Budget to support skills initiatives in the creative industries, we are working hard to give Dundee's video games sector every edge it needs to stay ahead of the competition.
Culture bid
‪The Secretary of State also met with Dundee's UK City of Culture 2017 bid team at the Dundee Contemporary Arts centre to learn more about the work they are doing with a variety of partners across the city to ensure a strong application is made. Dundee, alongside Hull, Leicester and Swansea Bay, has until the end of September to submit a final bid. An independent advisory panel will meet in November to decide the winner.‬
‪Mr Moore added‬:
I was pleased to meet with the Dundee City of Culture bid team and hear more about their bid. This competition and the extremely high quality of the applications highlights the fantastic variety of culture that thrives in all parts of the UK.‬

Becoming UK City of Culture 2017 would be a massive boost and a great honour for Dundee. With a substantial waterfront transformation project already underway this award would have the potential to act at as catalyst to encourage further development and economic growth.
‪The Secretary of State's day of engagements was rounded off by a visit to Abertay University to take part in a roundtable discussion as well as a meeting with Work Programme providers Ingeus and a speech on the Scotland Analysis programme to Dundee and Angus Chamber of Commerce.
Published 27 August 2013