World news story
70 Land Rover Defenders for Lebanon's 70th Independence Day
The UK demonstrates its support for Lebanon's stability with the delivery of 70 new Land Rover Defenders to the Lebanese army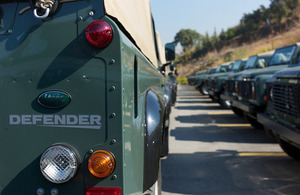 The British Ambassador today delivered to President Suleiman a letter from Prime Minister David Cameron in celebration of the 70th anniversary of Lebanon's independence. In his letter, the Prime Minister noted that:
As you mark Lebanon's 70th anniversary, I wanted to congratulate you on all that the country has achieved in seven decades, in a tough neighbourhood and despite conflict, invasion and insecurity. I know that you continue to face great challenges, not least in hosting so many victims of the war in Syria. I can give my assurance that the UK will continue to support you in confronting those challenges and in building a stable and prosperous Lebanon that can live at peace with its neighbours.
Practical UK support for Lebanon's stability has increased tenfold over the last two years. This includes a $16 million 'train and equip' programme to strengthen the Land Border Regiments of the Lebanese Armed Forces. This programme comes in response to the needs set out by the LAF in their five-year Capability Development Plan.
On the eve of the 70th anniversary of Lebanon's independence, 70 Land Rover Defender patrol vehicles have been delivered from the UK, with another 94 vehicles scheduled to arrive before the end of December. These vehicles will provide the Land Border Regiments with a vital off-road capability. Additional equipment is being delivered in the coming weeks, including 1,500 sets of body armour, HESCO bastion ballistic protection for LAF positions along the border, a secure radio communication network and border observation equipment.
British Ambassador to Lebanon Tom Fletcher said:
We are proud to be supporting the Lebanese Army on the 70th anniversary of Lebanon's Independence Day. This vital British kit comes in response to needs identified by the Lebanese Armed Forces. We are determined as ever to back stability in Lebanon and to give the Army the support to match its courage.
To mark Lebanon's 70th birthday, British Ambassador Tom Fletcher also released the following open letter' from his blog entitled: 'Dear Lebanon: An Open Letter on your 70th Independence Day'
Published 21 November 2013
Last updated 22 November 2013
+ show all updates
Corrected typo in subheader and added correct link
Added translation