£635,000 safety boost for Whitehaven junction
A £635,000 Highways Agency project to boost safety and reduce congestion around a key junction along the A595 in Cumbria is underway.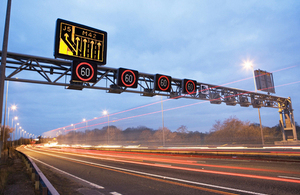 The A595 Egremont Road, south of Whitehaven, is to get traffic and pedestrian signals at the T-junction with the local Mirehouse Road. The junction experiences heavy traffic and congestion especially during shift changes at nearby Sellafield.
Work on the improvements started last week (Monday 5 January) and should be completed by Monday 2 March.
Drivers are being advised that some disruption to normal journeys is inevitable during the project with no entry into or out of Mirehouse Road for around 8 weeks and temporary traffic lights, as well as a 30mph speed limit, in place along the A595 itself - a single lane carriageway - as the junction is remodelled.
Alan Shepherd, the Highways Agency's director for the North West, said,
This is an important investment in a key junction along the strategic roads network in this part of Cumbria.

The improvements will make it safer and easier for everyone needing to use the junction including pedestrians and cyclists as well as drivers.

'> The project does involve significant remodelling of the junction and while we will be working hard to minimise the impact of the works at key times some delays are inevitable. We would like to thank users of the A595 and Mirehouse Road and local residents in advance for their patience.
During the work, access to Mirehouses Road from the A595 will be provided just south of Hensingham roundabout via Meadow Road and Skiddaw Road.
The project is one of 123 in the Government's £317 million 'pinch-point' initiative - a two year programme of targeted works being delivered alongside larger schemes and routine maintenance and improvements along the strategic road network.
The pinch-point programme, devised with the input of councils and local enterprise partnerships, is designed to help stimulate new development and local economic growth by improving road safety and tackling congestion bottle necks. In all, 28 projects, worth £66m, are being delivered across the North West.
The Mirehouse Road scheme is being seen as aiding local hopes for an extra 3,000 jobs and more than 1,000 homes West Cumbria by 2020.
Drivers can find more information and sign up for free email progress reports on the dedicated project page.
General enquiries
Members of the public should contact the Highways Agency Information Line on 0300 123 5000.
Media enquiries
Journalists should contact the Highways Agency press office on 0844 693 1448 and use the menu to speak to the most appropriate press officer.
Published 15 January 2015