World news story
61 New Chevening Scholars from Egypt head to the UK
British Ambassador bids farewell to 61 young Egyptian scholars heading to the UK to study one-year Master's degree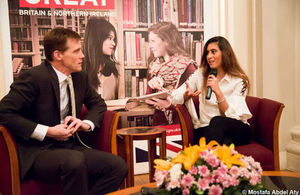 On Monday 11 September, the British Ambassador in Cairo, John Casson, bid farewell to 61 Egyptian master's degree scholars who have been awarded a fully-funded Chevening Scholarships, as they prepared to begin their studies in the UK.
The British Embassy in Cairo invited World Number One Squash player, Nour El Sherbini, to meet the scholars and deliver a Masterclass seminar on leadership to an audience of new scholars as well as Chevening alumni.
Chevening is a UK program which awards scholarships to individuals with demonstrable leadership potential who also have strong academic backgrounds. The scholarship offers full financial support for future leaders to study for any eligible master's degree at any of the UK's world-leading universities, whilst gaining access to a wide range of exclusive academic, professional, and cultural events.
There are more than 1,500 scholarships on offer globally for the 2018/2019 academic year, representing a significant investment from the UK Government towards developing the leaders of tomorrow. Last year, Egypt received the highest number of Chevening applications globally, with 5,486 applicants from all over the country, including Cairo, Alexandria, Dakahlia, Gharbiya, Al-Sharqiya, Qalybiya, Menoufia, Beheira and El-Minya.
This year, 34 women and 27 men from across Egypt have been awarded the scholarship to pursue a one year master's degree in the UK with a fully-funded Chevening Scholarship. They will study a diverse range of fields: Public Health, Law, Media, Education, Development, Finance, Entrepreneurship, Economics, Human Rights, Management, Politics, Public Policy, Energy and Environment.
Past scholars include: Former Deputy Prime Minister Dr. Ziad Bahaa El-Din; Vice Minister of Finance for Fiscal Policy Ahmed Kouchouk; Former Ambassador of the Arab Republic of Egypt to Rwanda and the new Legal Council of the African Union, Dr. Namira Negm; AUC economy professor Dr. Hania El-Sholakamy; and Head of EGX Mohamed Farid.
His Excellency Ambassador John Casson said:
After 33 years funding world-beating Egyptians to study at Britain's best universities for 33 years, Chevening is now bigger and better than ever. We have doubled our funding with 450 scholars since 2014 and we are seeing world record numbers of Egyptian applying. As we send this inspiring and talented new group of scholars to Britain, what better way to fire their ambition than the example of world Champion Nour El-Sherbini? When we give Egyptians the chance there is no limit to what they will achieve - that's why Britain aims to be Egypt's number 1 education partner.
Nour El-Sherbiny said:
It is a pleasure being part of today's event. It is inspiring to see Egyptians trying to achieve their goals. It is a great opportunity to enjoy this experience and work on achieving their dreams. I look forward to meeting them after they come back as they work on making Egypt stronger.
Applications for next year's Chevening Scholarship are now open and will close in 7 November 2017. Scholars must be Egyptian nationals with an undergraduate degree, at least two years work experience, and meet an English language requirement in order to be eligible to apply.
Published 13 September 2017