60 years since the day that changed the nuclear industry
On this day 60 years ago Her Majesty Queen Elizabeth II opened the world's first full-scale nuclear power station, Calder Hall, at Sellafield.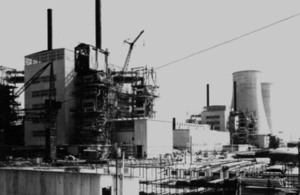 On 17 October 1956, delegates from 48 countries gathered at the nuclear site on the Cumbrian coast, at a grand event that would see Her Majesty cut a ribbon that would transform the nuclear industry, and a small farming community, overnight.
Calder Hall led the way for the UK in the use of nuclear fuel to generate electricity, and was the first in the world to be connected to the national grid.
Operating safely for 47 years, twice its planned design life, it was a feat of British engineering and is known as 'the father of the nuclear industry'. A further 14 reactors were built across the UK, in exact replica of the design, along with a further 2 stations in Italy and Japan.
Covering over 43 acres of the Sellafield site on the coast of Cumbria, the iconic station has the same sized footprint as Buckingham Palace and its grounds. It continues to blaze a trail, this time in nuclear decommissioning. The complex clean-up of the facility station is well underway.
See the latest Sellafield Magazine for a host of stories, features and images relating to Calder Hall.
The Calder Hall 60th anniversary exhibition will run at the Beacon museum on Whitehaven's harbour from Saturday 1 until Sunday 30 October 2016.
Published 17 October 2016