Press release
£50m programme brings roads boost across East Midlands
A widespread congestion-busting roads improvement programme worth almost £50 million has now tackled five bottlenecks in the East Midlands - with another six due to be completed in the next three months.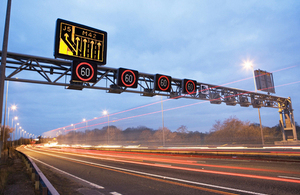 The £317 million national "pinch point" programme will cut congestion, increase safety and improve journey times - and help support the creation of thousands of new jobs and homes across the East Midlands.
The improvement plans – part of the biggest programme of road enhancements since the 1970s – were drawn up by the Highways Agency working with local councils and communities.
The 121 schemes are distributed across England's major road network. There are 11 schemes in the East Midlands region totalling £49.8 million. These include the A38 Markeaton and Little Eaton schemes in Derby, a lane widening scheme at the A5 Dodwells roundabout in Leicestershire and improvement work to the M1 junction 24 at the A50 approach.
Tim Harbot, Highways Agency Divisional Director for the Midlands, said:
Since the launch of the Pinch Point Programme, we have been working in partnership with local authorities, Local Enterprise Partnerships and communities to deliver a roads programme which will make a real difference to our region.

The schemes are already providing big returns by easing traffic flows and making journey times more reliable. Once completed, the programme will have long-term benefits in boosting prosperity and driving economic growth in the East Midlands.
The pinch point programme was launched in November 2011. Schemes due to be delivered in the next three months are:
a £4.6M scheme to improve the junction and pedestrian facilities at the A43/A5 in Tove, Northamptonshire
£7.6m scheme to widen approaches, renew traffic signals and implement a traffic cut-through lane at the junction of M1 J24 A50 approach
a £2.8m investment to signalise and improve the junction at A43 M40 J10
a £4.7m project to increase capacity by widening the A5 Dodwells roundabout and improve pedestrian provision at A5/A47 Longshoot junction in Leicestershire
Pinch point schemes which have already been delivered in the region include:
A38 Little Eaton, Derbyshire
M1 J21, Leicestershire
A38 Markeaton, Derbyshire
A45 Wilby Way, Northamptonshire
A5 Hinckley, Leicestershire
More information about the Pinch Point Programme is available on the Highways Agency's website.
General enquiries
Members of the public should contact the Highways Agency Information Line on 0300 123 5000.
Media enquiries
Journalists should contact the Highways Agency press office on 0844 693 1448 and use the menu to speak to the most appropriate press officer.
Published 30 January 2015