News story
5 years for County Durham man for possession of Luger pistol
Sentence increase for Joseph Wright from 18 months after unduly lenient sentence appeal by Solicitor General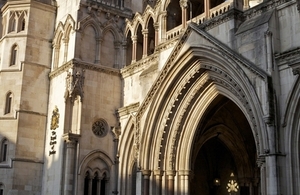 The Court of Appeal has today raised the sentence of Joseph Wright for possession of firearms from 18 months to 5 years' imprisonment.
Joseph Wright was found with a Luger pistol containing a 9mm round loaded into the chamber, in addition 15 further rounds ammunition were found. Wright claimed the gun had belonged to his father who collected World War II memorabilia.
In July of this year Wright was sentenced to 18 months imprisonment for possession of the firearm and 6 months concurrent for possession of the ammunition. The Solicitor General, Oliver Heald QC, MP referred the sentence to the Court of Appeal under the Unduly Lenient Sentence scheme. The Court agreed the sentence was unduly lenient and raised it to 5 years.
Speaking after the hearing, the Solicitor General, Oliver Heald, QC, MP, said:
Possession of a firearm of this type attracts a mandatory sentence unless there are exceptional circumstances for not doing so. I did not believe that to be the case here and I am pleased that the Court has agreed with that assessment. Firearms create a danger for the general public, and that is why I welcome the Court's decision to increase the sentence to 5 years.
I hope this revised sentence sends out a clear message to anyone harbouring illegal weapons, that when you are caught you will spend many years in jail.
Published 4 October 2013