World news story
£5 million to non-formal education across Lebanon
UK aid provides additional support to Lebanon's education programme to ensure that all children are receiving an education.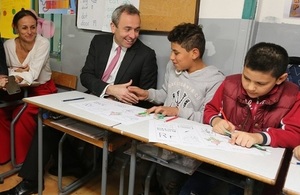 On the eve of Lebanon's 75th Independence Day and the week of World Children's Day, British Ambassador Chris Rampling said:
Education is the future, it offers children a ladder out of poverty to transform their communities and countries. As the world celebrates World Children's Day, the UK is proud to be a committed partner to education in Lebanon. I am pleased to announce that the UK Secretary of State for International Development Penny Mordaunt has today announced an additional £5 million to our support to UNICEF's non-formal education programme working with the most vulnerable children across all of Lebanon.
The additional funding will continue to support girls and boys with non-formal education and provide child protection and Gender Based Violence services to the most vulnerable, bringing the UK's support in this area to £65m over four years. Over 14,000 girls and boys aged between 3-5 years, 8-18 years will receive community-based early childhood education and attend Basic Literacy and Numeracy classes, and over 10,600 will receive child protection and other related services.
Since 2016, the project has succeeded in providing non-formal education to almost 64,000 refugee boys and girls and supported over 116,000 disadvantaged boys, girls and women in Lebanon who are vulnerable to abuse with a package of services to help them deal with trauma and prevent abuse in the future.
Every child has the right to an education, that is why the UK's strong partnership with Lebanese and international partners will continue to help ensure that all children in Lebanon receive an education.
Published 21 November 2018