World news story
El Reino Unido ayuda a su empresa a encontrar el proveedor a su medida
El Gobierno del Reino Unido ofrece un servicio de búsqueda gratuito para emparejar a las empresas con los proveedores que necesitan.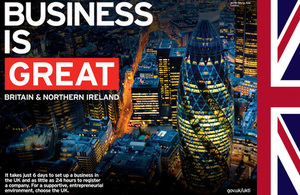 Más de 80.000 empresas británicas han respondido a oportunidades empresariales en el extranjero, en los dos últimos años, con un incremento interanual del 95%, lo que pone de manifiesto que el Reino Unido es un centro estratégico mundial de negocios.
El servicio de emparejamiento del Gobierno del Reino Unido cuenta con una red de empresas bien consolidadas en todos los sectores, que permite a las empresas españolas beneficiarse de productos y servicios de primera clase:
www.events.ukti.gov.uk/business-is-great-2016
Registrándose, las empresas pueden especificar los servicios y productos que necesitan de manera que el Gobierno del Reino Unido las juntará con las empresas británicas adecuadas.
Las empresas de los sectores de salud, tecnología e industrias creativas, que se registren antes del 1 de abril de 2016, no sólo se beneficiarán de contactar con empresas británicas de talla mundial, sino que también participarán en el sorteo para asistir al Festival of Business 2016 en Liverpool, como miembros de una delegación comercial personalizada.
El embajador Simon Manley declara:
Este servicio que ofrece el Reino Unido ya ha ayudado a empresas españolas a desarrollar su negocio y seguirá haciéndolo con muchas más en los próximos años.

El Reino Unido cuenta con una rica experiencia en los sectores de asistencia sanitaria, tecnología y en las industrias creativas y está siempre dispuesto a hacer negocios.

Independientemente de cuál sea su necesidad empresarial, si se registra en este servicio estratégico el Reino Unido puede responder a su llamada.
Notas para los editores:
La sección comercial (UK Trade and Investment) de la Embajada británica en Madrid, y de los Consulados de Barcelona y Bilbao, están en disposición de ayudar a su empresa en la búsqueda del proveedor de productos o servicios que necesita para crecer.
Contáctanos:
Embajada británica en Madrid: uktimadrid@fco.gov.uk
Consulado británico en Barcelona: uktibarcelona@fco.gov.uk
Consulado británico en Bilbao: maria.fitzpatrick@fco.gov.uk
Published 18 enero 2016