Press release
£2.6m pinch point improvement project brings latest technology to M1
A Highways Agency project that will include some of the most advanced technology to help motorists will get underway on the M1 near Sheffield in South Yorkshire next week (29 July).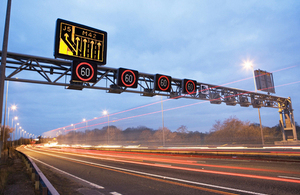 The work, which will affect the 1.9 miles of motorway between junction 31 and 32, will introduce the most up-to-date signals and variable message signs, all capable of displaying variable mandatory speed limits. It involves significant work to existing gantries, installation of additional variable message signs, along with cabling, barrier and safety work.
The aims of the pinch point project are to help to reduce congestion, make journey times more reliable, improve safety, enhance access to surrounding areas and benefit the economy.
The work, scheduled to last until spring 2015, will mainly be carried out during off-peak hours between 8pm and 6am. The current 50mph speed restriction will be extended from the M1 junction 28-31 smart motorway work up to junction 32.
As part of the project, a new variable message sign will be located on the M18 southbound link road at the M18/M1 interchange triangle.
It is one of 15 Highways Agency pinch point schemes taking in place in Yorkshire and Humber. The pinch point programme provides smaller scale improvements that can deliver big returns by easing congestion and making journey times more reliable for road users, including hauliers and commuters, to help boost local economies and drive economic growth.
Highways Agency Service Delivery Team Leader Roger Wantling said:
Once the scheme is completed, it will reduce congestion and delays on and close to this major route. It should also improve overall road safety. During the work we advise drivers to check local traffic conditions and leave extra time for their journeys if necessary.
In order to carry out this work there will be 24-hour closures of the hard shoulder at localised areas. An overnight lane restriction will be applied between 8pm and 6am. Every effort will be made to ensure disruption to traffic and residents is kept to a minimum.
The work is part of a £317 million pinch point programme designed to boost local economies, reduce congestion and improve safety on the strategic road network in England. The programme is part of the Government's growth initiative, outlined during the Chancellor's Autumn statement in November 2011.
More information about the scheme will be provided nearer the time and further information will also available on the Highways Agency website at www.highways.gov.uk/roads. Information on the pinch point programme can be found at www.highways.gov.uk/our-road-network/managing-our-roads/improving-our-network/pinch-point-programme.
General enquiries
Members of the public should contact the Highways Agency Information Line on 0300 123 5000
Media enquiries
Journalists should contact the Highways Agency press office on 0844 693 1448 and use the menu to speak to the most appropriate press officer.
Published 22 July 2014