Press release
25th anniversary of the Lockerbie tragedy: Nick Clegg's message
Deputy Prime Minister Nick Clegg has issued a statement on the 25th anniversary of the Lockerbie tragedy.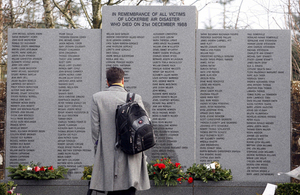 The Deputy Prime Minister said:
Today our thoughts are with the families of those killed in the Lockerbie tragedy, the people of Lockerbie and all those affected by this devastating event. 25 years may have passed, yet the memory of the loved ones, friends and neighbours they lost is always present.

Down the years, together, the families affected have worked to support each other through their grief and honour the lives of each and every one of the 270 people killed on that night.

In doing so, those left behind have built a legacy of hope that will far outlive the brutality of those who perpetrated this atrocity. Whether it is through the permanent memorials that stand on both sides of the Atlantic, the remembrance services held every year, or the scholarships established for promising students at Syracuse University and Lockerbie Academy and other activities.

On this anniversary, we stand with these brave individuals and families to remember those who died. And we dedicate ourselves to learn from their example: committing to always meet the worst of human nature with very the best of human nature.
Published 21 December 2013