Press release
25th anniversary of the Hillsborough disaster: Nick Clegg statement
Deputy Prime Minister Nick Clegg's statement ahead of the 25th anniversary of the Hillsborough disaster.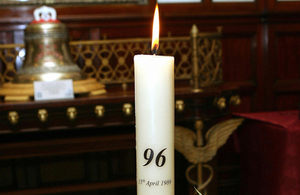 25 years ago, Liverpool and Nottingham Forest met to play each other in an FA Cup Semi-Final. In the tragic events which followed at Hillsborough Stadium, 96 fans lost their lives, hundreds were injured and the lives of these families and communities were changed forever.

Today, we remember them. We also pay tribute to the courage, determination and dignity of the Hillsborough victims' families, who have campaigned so tirelessly in memory of their loved ones.

These families have faced a long and painful road to the truth – and yet they have refused to give up.

Their fight for justice for the 96, and all those impacted by this tragedy, goes on.

Our government will continue to do all we can to support them.

So as we mark this anniversary, in Liverpool, Sheffield and across the country, we do so in support and respect for the families bereaved by Hillsborough, its victims and survivors. And we commit – together – to ensure this can never happen again.
Published 11 April 2014