World news story
24 senior Indian figures to advise University of Cambridge
This was published under the 2010 to 2015 Conservative and Liberal Democrat coalition government
Press conference in Delhi to announce a major step-change in the University's strategic engagement with India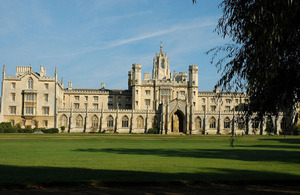 A select group of 24 senior Indian business leaders, government figures and academics has been created to guide and assist the extensive range of existing research collaborations between Cambridge and Indian academics, to foster the establishment of new ones, and to play an ambassadorial role in promoting the University in India.
The Vice-Chancellor's Circle of Advisors (see full list below) will attend a summit meeting with a delegation from the University of Cambridge, led by Vice-Chancellor Professor Sir Leszek Borysiewicz, in Delhi on 11 September.
Engagement with India is a strategic priority for the University of Cambridge, working in partnership to tackle global challenges through research and education.
Cambridge's current collaborations with India cover a wide range of disciplines including Biomedical Sciences and Public Health, Education and the Social Sciences, Physical Sciences, Technology and Business. These diverse interests are reflected in the backgrounds and expertise of the members of the Circle of Advisers.
The University is home to distinguished academics from India, including Professor Sir Partha Dasgupta (Economics), Professor Ashok Venkitaraman (Cancer Research), and Nobel laureate Sir Venkatraman Ramakrishnan (Molecular Biology).
The University of Cambridge has more than 1300 active alumni in India, with particular concentrations in Delhi, Mumbai, Kolkata and Bangalore, and there are nine active alumni groups and societies in India.
The Vice-Chancellor said:
I am thankful for the warm reception that Cambridge always receives in India: this will be my fifth visit since I was elected Vice-Chancellor in 2010.
Our relationship is close and it is also very practical. There are many challenges that we can meet better together than separately. I am profoundly grateful to my new Circle of Advisors who are generously giving their time and expertise to ensure that our collaborations are as productive as possible for India and for Cambridge.
Further information:
Journalists: Please register by email to be sent time and venue for the press conference with the Vice-Chancellor on 11 September.

The members of the Vice-Chancellor's Circle of Advisors, India, most of whom will attend the inaugural meeting in Delhi, are:
Professor Balram Bhargava Department of Cardiology, All-India Institute of Medical Sciences, Delhi
Lord (Karan) Bilimoria Chairman, Cobra Beer Partnership Ltd
Professor Basudev Chatterji Chairman, Indian Council of Historical Research
Mr Jitesh Gadhia Senior Managing Director, Blackstone Advisory Partners
Dr Yusuf Hamied Chairman, Cipla Ltd
Dr Ramesh Mashelkar President, Global Research Alliance
Mr Ranjit Mathrani Chairman, MW Eat Ltd
Ms Kiran Mazumdar-Shaw Chairman and Managing Director, Biocon Ltd
Dr Arabinda Mitra Head, International Cooperation Division, Dept of Science & Technology, Gov of India
Mr Sunil Mittal Chairman and Group CEO, Bharti Enterprises
Mrs Zia Mody Senior Partner, AZB & Partners
Mr Deepak Parekh Chairman, Housing Development Finance Corporation Ltd
Mr Sam Pitroda Advisor to the Prime Minister of India on Public Information Infrastructure & Innovations
Mr Leo Puri Senior Advisor, McKinsey & Co (India) Inc
Dr Baldev Raj President, Indian National Academy of Engineering
Mr Ajit Rangnekar Dean, Indian School of Business, Hyderabad
Professor CNR Rao Chair, Scientific Advisory Council to the Prime Minister of India
Professor K Srinath Reddy President, Public Health Foundation of India
Mr Alan Rosling Chairman, Kiran Energy
Dr Ratan Tata Chairman, Tata Trusts
Mr Ashok Thakur Secretary, Dept of Higher Education, Government of India
Professor Sukhadeo Thorat Chairman, Indian Council of Social Science Research
Lord (Rumi) Verjee Chairman, Thomas Goode & Co
Professor K VijayRhaghavan Secretary, Dept of Biotechnology, Government of India
Cambridge and India
For more than 150 years, the University of Cambridge has valued its close relationship with India. From the mid-nineteenth century, when the first students from India arrived in Cambridge, scholarship and lasting friendships have been the foundation of academic partnership. Among former students, three Indian Prime Ministers, Jawaharlal Nehru, Rajiv Gandhi and Manmohan Singh, were educated at Cambridge.
Some examples of Cambridge-India partnerships
The Centre for Chemical Biology and Therapeutics (CCBT) in Bangalore has been established with funding from the Department of Biotechnology, Government of India, as a partner to the Molecular Therapeutics Programme at Cambridge. CCBT will target three areas of fundamental science: identifying the right targets for disease, extending the repertoire of drug ability, targeting the right patients. Academic leadership from Cambridge is working with an appointed Director and wider team in Bangalore. Future plans include academic exchange at doctoral and post-doctoral levels between Bangalore and Cambridge.
In April 2013, the Centre for International Manufacturing (CIM) at Cambridge was awarded a major UK-India Advanced Manufacturing Research Grant from the Department of Science and Technology, Government of India, and the UK's Engineering and Physical Sciences Research Council. A project led by Professors Mike Gregory (Cambridge), Harpreet Singh (IIT-Ropar) and Samir Srivastava (IIM Lucknow) will start in January 2014 investigating engineering-driven sustainable supply networks in four industries of national importance – Aerospace, Automotive, Pharmaceutical and Food Processing. Key industrial partners include the India and UK subsidiaries of Rolls Royce and several Indian pharmaceutical companies.
The Bangalore-Cambridge Innovation Network (BCIN), launched in September 2012, is an association of innovators, researchers and businesses from Bangalore and Cambridge which aims to foster links between both cities, leveraging each other's ecosystems for mutual benefit.
Media Contact: Tim Holt, Head of Communications, University of Cambridge +44 1223 765954 +44 7824 835223
Document information
Published: 4 September 2013