World news story
24-hour UK visa service to launch in the Philippines
The new service will be available to customers starting 23 February 2015.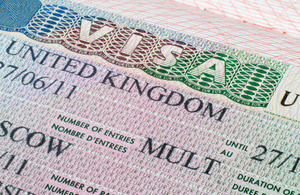 The Super Priority Visa Service (SPVS) is an optional first class visa service to facilitate the most urgent travel needs and will be available to all visitor visa applicants and some work visa categories. SPVS complements our efficient standard service and the existing 3-5 day Priority Visa Service, an option which will also be made available to more customers including all visitors.
The expansion of our premium services aims to provide greater choice to our rapidly growing customer base in the Philippines.
In the year ending September 2014, over 53,000 UK visas were issued to Philippine nationals. Compared to the previous 12 months, the total number of visit visas granted rose sharply to almost 32,000 including a 62% rise in tourist visas and an 8% rise in business visits. This underscores the UK's fast growing popularity as a visit destination for Filipinos and the strong ties between both countries.
British Ambassador to the Philippines, Asif Ahmad said:
I am delighted to see the Super Priority Visa service being launched in the Philippines. This underlines our strong commitment to make an already excellent visa service even better. We expect this new service to be particularly useful for business where opportunities can arise at very short notice. We want entrepreneurs and businessmen to be able to seize these.
The extension of our 3 to 5 day priority service to include all visitors without exception will also be welcome to those wanting to take advantage of any last minute holiday deals." UK Visas and Immigration, along with a number of select travel providers, will have an information booth at the GREAT British Festival held on Bonifacio High Street, Bonifacio Global City between Friday 27 February and Sunday 1 March to answer any questions about visiting the UK and visa requirements.
Further details about UK visa services can be found on the UK Visas and Immigration website.
Published 12 February 2015