Press release
£2.1 million electronic signs and cameras project to boost Lancashire M6 safety
A £2.1 million Highways Agency project to give drivers in Lancashire better information along the M6 will get underway next week (Monday 24 November 2014).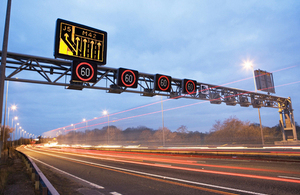 Four of the latest electronic variable message signs (VMS) are to be installed around junction 35 of the motorway at Carnforth – giving drivers better warnings of incidents and other information about the motorway such as weather conditions.
As part of the work, new CCTV cameras will be mounted on the VMS signs and standalone masts - allowing Highways Agency traffic officers at the North West Regional Control Centre at Newton-le-Willows to monitor and manage motorway incidents more effectively.
A similar, £1.7 million project to provide new VMSs and CCTV cameras around junction 33 of the M6 at Galgate was delivered earlier this year. Highways Agency project manager Dan Foster said:
This significant investment in technology along this section of the M6 in Lancashire is being delivered through the Government's pinch point programme and will boost the amount and frequency of information we can give to motorway users – helping to provide safer and more reliable journeys.

The better intelligence provided by the additional cameras will also make it easier for Highways Agency traffic officers and partners like the police to respond to and manage incidents – again boosting safety and journey reliability.

None of the work is expected to cause any significant delays to drivers' journeys but we appreciate that people do like to know what work is going on within roadworks such as lane closures.
The project is one of 123 in the Government's £317 million 'pinch-point' initiative – a two year programme of targeted works being delivered alongside larger schemes and routine maintenance and improvements along the strategic road network.
The pinch-point programme, devised with the input of councils and local enterprise partnerships, is designed to help stimulate new development and local economic growth by improving road safety and tackling congestion bottle necks. In all, 28 projects, worth £66m, are being delivered across the North West.
The new signs and cameras will be placed a mile and half a mile in each direction from junction 35 with two more cameras erected on standalone masts.
The installation work will begin on Monday (24 November) and should be completed by the end of March. Lane one of the carriageway in both directions is likely to be closed around the clock throughout the works. Towards the end of the project there will be overnight closures of lanes one and two around each electronic signs site as the actual display mechanisms are fitted.
To help people with holiday journeys no work will be taking place over the Christmas and New Year festive period and lane closures will be removed. Drivers can found out more information about the improvements – and sign up for free email alerts on progress –- by visiting http://www.highways.gov.uk/roads/road-projects/m6-junction-35-electronic-message-signs-and-cctv
General enquiries
Members of the public should contact the Highways Agency Information Line on 0300 123 5000.
Media enquiries
Journalists should contact the Highways Agency press office on 0844 693 1448 and use the menu to speak to the most appropriate press officer.
Published 18 November 2014