World news story
2016 UK Science and Innovation Network Robotics Mission to Taiwan
2016 UK Science and Innovation Network Robotics Mission visits Taiwan between 30 August and 2 September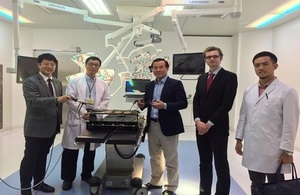 Following the first successful Robotics Mission to Taiwan in November 2015, the UK Science and Innovation Network has now organised the second Robotics Mission between 30 August and 2 September. This Mission seeks to facilitate further collaboration and investment opportunities between the UK and Taiwan in the R&D, commercialisation and exports of robotics and autonomous systems.
This Mission will build on the successes of the first Mission by promoting proactive engagement between the industry bodies of the UK and Taiwan in the fields of aviation, aerospace, machinery, manufacturing & production, and medical devices & healthcare, in relation to robotics and autonomous systems. This Mission will also be the first to participate in the Taiwan Automation Intelligence and Robot Show.
Led by Professor Guang-Zhong Yang, Chairman of the EPSRC UK Robotics and Autonomous Systems Network (UK-RAS Network) and Director of Hamlyn Centre of Imperial College London, the mission members include robotic specialists from Shadow Robot, Rolls-Royce and Aylesbury Automation. During this visit, the delegation will meet with several leading research institutes in Taiwan, including the Industrial Technology Research Institute, National Taiwan University and National Chiao Tung University.
On 31 August, the UK delegates will attend the TAIROS Smart Manufacturing & Smart Services International Forum, and Professor Yang will present on the UK's vision for smart manufacturing. On 1 September, the British Office will host the 2nd UK-Taiwan Robotics Workshop, where delegates will discuss UK innovations in medical and industrial applications, such as medical equipment design and software development. This will include discussions on Shadow Robot Company's dexterous hands for robots; Rolls-Royce's binding data monitoring and minimally invasive instrument repair technology; Aylesbury Automation's robot grippers that can pick up "difficult to automatically handle" products; and the Hamlyn Centre of Imperial College London's intelligent robots, advanced minimally invasive surgical products, medical Imaging and sensor technology.
Robotics and Autonomous Systems is one of the "Eight Great Technologies" identified by the UK Government as a sector where the UK has particular advantages and strong prospects for future growth and employment. The global market for industrial robotics is currently worth over US$25bn and is forecast to reach US$37bn by 2018, while the market for professional service robots will increase from US$3.4bn to US$17.1bn by the end of this year. More than £150 million is currently being invested by both the UK government and industry to support cutting-edge research and projects at UK universities and companies into the development and application of robotics and autonomous systems.
The UK's world-class ICT strengths, particularly in software programming and data handling, offers an ideal business and research environment for leading international autonomous systems and robotics companies. British Office will support further bilateral exchanges in these and other scientific fields in the future to continue to build on and develop our scientific and innovation links with Taiwan.
Published 30 August 2016