Press release
£200,000 pedestrian improvements at A50 Meir roundabout
The Highways Agency is set to start work on £200,000 improvements at Meir roundabout on the A50 near Stoke-on-Trent.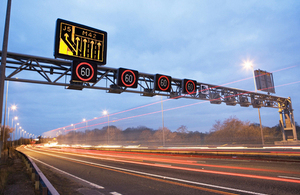 The safety and functionality of pedestrian crossings will be improved as part of the work, and new low-power lighting will be installed to save energy.
The work will require lane restrictions on the east and westbound approaches to the roundabout – however, the road will remain open throughout the work.
The Agency will be working on two lanes at a time, leaving the other lanes fully operational. Work is scheduled between 9am and 4pm on weekdays, from Monday 3 November to Monday 2 February.
Highways Agency project manager Purnima Kaul said:
The Meir roundabout is in a built up area of the A50, and is heavily used by pedestrians getting to and from local shops and amenities, including the NHS Meir Primary Care Centre. It's important that they can continue to cross the road safely.

We are replacing the current equipment, and the outcome will be an improved pedestrian crossing, with better, more efficient lighting.

As we're able to do this work without full road closures, traffic will still be able to access the Meir roundabout during this time. However, the entry and exit routes will be down to one lane to allow us to keep working, whilst minimising disruption to road users.

We will be setting up alternative pedestrian access and crossings during the work to help reduce any impacts on local people using the roundabout.
As well as increasing safety, the improved lighting equipment will run off a new low-voltage power supply, to deliver ongoing energy savings.
During roadworks, drivers are advised to plan their journeys and allow more time for travel.
Drivers can get up-to-the-minute travel information by phoning the Highways Agency Information Line on 0300 123 5000 or by accessing the Agency's website
Further information regarding current and planned roadworks in the Midlands can be found on the Highways Agency website.
General enquiries
Members of the public should contact the Highways Agency Information Line on 0300 123 5000.
Media enquiries
Journalists should contact the Highways Agency press office on 0844 693 1448 and use the menu to speak to the most appropriate press officer.
Published 31 October 2014