News story
17 of the Bills included in Queen's Speech extend to Scotland
UK Government's legislative programme 'means positive change for people across Scotland', says Scottish Secretary David Mundell.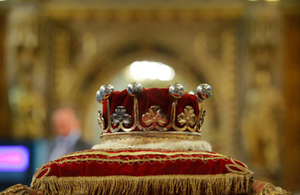 The legislative programme laid out in the Queen's Speech will support people across the country and build on the many benefits of being part of the UK, Scottish Secretary David Mundell said today.
Seventeen of the Bills mentioned in the Speech extend to Scotland in full or in part, while 7 do not.
Mr Mundell said the government's plans would give a helping hand to working people and families as well as major new powers for the Scottish Parliament.
The Scotland Bill will be introduced shortly and will deliver the recommendations of the Smith Commission on further devolution.
Other measures affecting Scotland include a focus on energy security and support for the North Sea oil and gas sector and moves to tackle extremism and strengthen counter-terrorism. The legislative programme also includes measures on immigration controls and an EU Referendum.
The National Insurance Contributions Bill/ Finance Bill also includes a commitment to ensure there are no rises in income tax rates, VAT or National Insurance contributions for the next 5 years.
Mr Mundell said:
Scotland's future is on a better footing thanks to the government's ambitious programme with measures to create jobs and support working people at the heart of our plan .

We are delivering quickly on further devolution by giving the Scottish Parliament wide-ranging new powers. That means Scotland will have a huge amount of flexibility to make its own decisions while keeping the many advantages of being part of the UK. The Scottish Government must now be clear on how it intends to use both these and its existing powers in the interests of Scotland.
The Government will bring forward 24 new bills, 17 of which will extend to Scotland.
Expected to extend to Scotland in full or in part:
Scotland Bill
Full Employment and Welfare Benefits Bill
Energy Bill
Immigration Bill
Enterprise Bill
Trade Unions Bill
Wales Bill
Northern Ireland (Stormont House Agreement) Bill
EU Referendum Bill
Investigatory Powers Bill
Psychoactive Substances Bill
Extremism Bill
National Insurance Contributions Bill
Bank of England Governance Bill
European Union (Finance) Bill
Votes for Life Bill
Armed Forces Bill
Do not extend to Scotland:
Childcare Bill
Housing Bill
Education and Adoption Bill
Cities and Local Government Devolution Bill
Police Reform and Criminal Justice Bill
Buses Bill
Charities (Protection and Social Investment) Bill
In draft:
UK Bill of Rights
Published 27 May 2015