World news story
11 November 2018: Remembrance Day and Armistice Day in Greece
British Embassy Athens remembers and honours the fallen.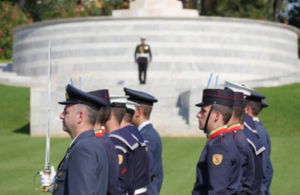 Remembrance Day is the anniversary of the end of hostilities in the First World War, in 1918. It is traditionally the day put aside to remember all who have suffered and died fighting for peace and freedom in the service of their country and all those who mourn them.
Armistice Day marks the 100th anniversary of the cessation of hostilities between the Allies and Germany in the First World War.
These days coincided this year. The British Embassy honoured the day, on Sunday 11 November 2018, with a Remembrance Service at St Paul's Anglican Church at Syntagma followed by a memorial service and a wreath laying ceremony at the Commonwealth War Graves Commission Cemetery at Alimos.
British Ambassador Kate Smith CMG and Defence Attaché Tim Ferns were accompanied in the wreath-laying by Ambassadors and diplomatic representatives of Ireland, France, Italy, Malta, Germany, Austria, Hungary, Romania, Cyprus, the Czech Republic, Serbia, Slovakia, Australia, New Zealand, the United States of America, Canada, Turkey, Israel, India and Nigeria, and the Deputy Mayor of Alimos. Representatives of the Hellenic Armed Forces were also present, as well the Raiding Forces and Sacred Squadron Club of Greece Veterans and the Pan-Hellenic Association of Warriors of the Expeditionary Forces of the Middle East, Rimini Holy Company.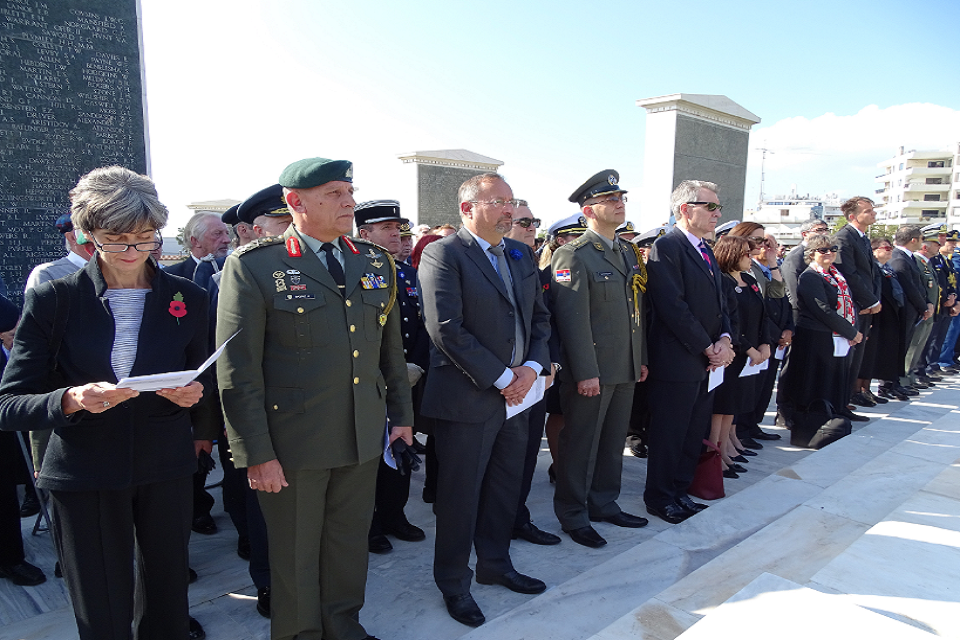 The Services were led by Revd Canon Fr Leonard Doolan from St Paul's, while representatives from the Greek Orthodox and Greek Evangelical Churches also contributed with prayers.
The younger generation shared a special role at this year's ceremony. The 1st Athens Brownie Pack participated in the wreath laying, while the choir of Byron College performed two pieces especially composed for the Centenary by Dimitri Orlov, directed by Sunny Levi, with Clarissa Read as soloist.
Last but not least, several local communities joined the Service, including the Sikh National Federation of Greece, representatives of which attended the ceremony for the first time.
Respective Commemoration Services took place in other parts of Greece, in Corfu, Rhodes, Crete and Thessaloniki.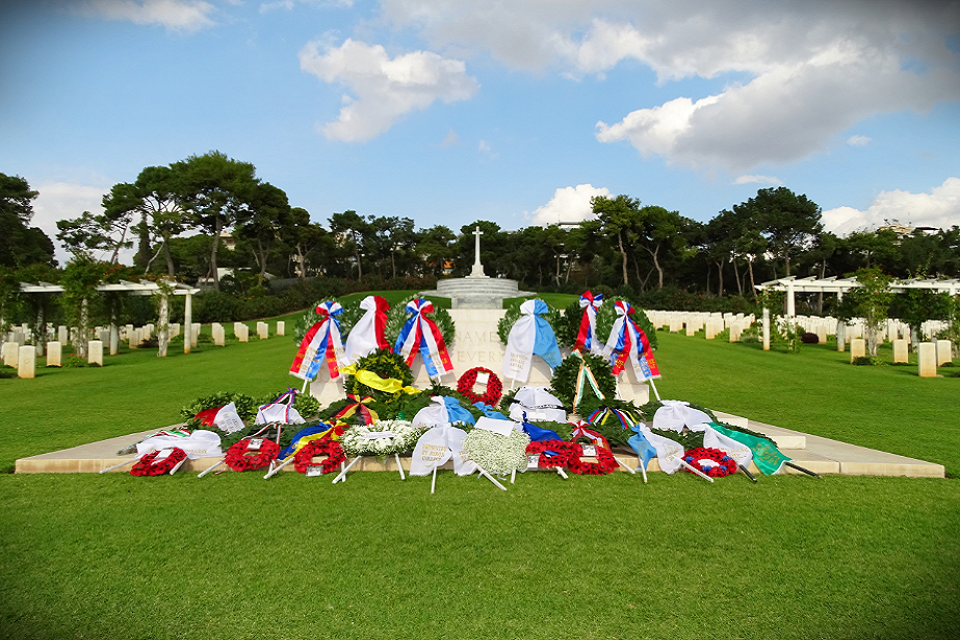 All participants wore a poppy – a symbol of Remembrance and hope, worn by millions of people. In the spring of 1915, shortly after losing a friend in Ypres, a Canadian doctor, Lieutenant Colonel John McCrae was inspired by the sight of poppies growing in battle-scarred fields to write a now famous poem called 'In Flanders Fields'. After the First World War, the poppy was adopted as a symbol of Remembrance.
A few weeks ago, on 30 September, HRH The Duke of Kent, the British Ambassador Kate Smith CMG and Defence Attaché Tim Ferns, attended a WWI Service of Commemoration at the CWGC Doiran Memorial for the Macedonian Front.
Published 16 November 2018