World news story
100 years from beginning of World War One marked in Macedonia
British Ambassador Charles Garrett delivers remarks at a conference on the centenary of the beginning of World War One in Macedonia.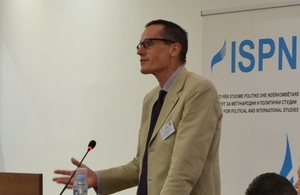 How the world has changed and what is reality in the Balkans one century after the World War One began was the main topic of debate at the conference hosted in Skopje entitled "The Balkans 100 Years after the Start of the First World War" hosted at the South East European University (SEEU).
The conference gathered a range of speakers such as diplomats, professors, researches, who reflected on the changing political and security reality in these 100 years.
Delivering remarks at the conference, our ambassador Charles Garrett said:
The goal of building a safe and successful European home for all the continent's nations remains incomplete. To do that, we must understand and remember our shared history. And this conference, coming at the start of four years of significant 100th anniversaries in Europe, will make a valuable contribution.
Ambassador Garrett shared the opening panel of the conference with Dr Zamir Dika, Rector of SEEU, Izet Mexhiti Mayor of Cair Municipality, Gudrun Steinacker German Ambassador in Macedonia, Thomas Michael Baier Austrian Ambassador in Macedonia, Laurence Auer French Ambassador in Macedonia, Ylber Hysa Kosovo Ambassador in Macedonia, Dr Reis Mulita Director of ICID-Tirana Albania, Dr Ylber Sela Director of IPIS-Skopje Macedonia and Pishtar Lutfiu President of Club Alpbach Macedonia.
The conference was organised by the South East Europe University, ICID and Club Alpbach Macedonia with the support and partnership of the Municipality of Cair, Austrian Embassy in Skopje and the German Embassy in Macedonia.
Find more information on First World War Centenary
Connect with us on Facebook or follow us on Twitter @ukinmacedonia.
Connect with the British Ambassador at @BritAmbCGarrett.
Published 29 June 2014