News story
£100 million to expand early education and childcare
Early education and childcare providers are to receive £100 million to help them meet a growing demand for places.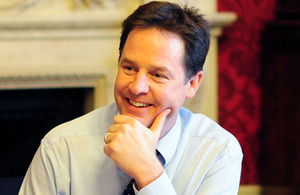 The money will be used to support new nurseries and childminders in getting established, as well as helping existing providers to create and provide additional places. The Government will extend free childcare to 130,000 of the most disadvantaged two-year-olds from September 2013, rising to around 260,000 (40 per cent of all two-year-olds) in September 2014.
Children from disadvantaged backgrounds are known to be more at risk of poor development, with evidence showing that differences by social background emerge early on in life. High quality early education can make a difference to a child's progress and the additional Government money will help to make sure children from poorer families do not lose out.
Nick Clegg, Deputy Prime Minister, said:
Every child should have a fair chance from the word go. High quality early education can make a huge difference to children at the start of their lives. By getting things right from the off, they are much more likely to be ready to learn when they start school and to get the most out of their lives.

It's important we put the support in place to ensure nurseries and other childcare providers can supply thousands of additional free places, so that children can reap the benefits.
The £100m will be allocated to local authorities across England.
The free childcare entitlement for two-year-olds has already rolled out early in 10 pilot areas this September. Currently, more than 850,000 three and four year olds nationally access up to 15 hours of free early education every week.
Notes to editors
A breakdown of the number of children that it is estimated will be eligible for free places in each local authority is on the Department for Education website. 
The 10 pilot areas trialling the free two-year-old entitlement are: Blackpool, Cornwall, Greenwich, Kent, Lambeth, Lancashire, Newcastle, Northamptonshire, Peterborough and Rotherham.
Published 25 September 2012