£1 billion to improve council homes set to boost economy
Housing Minister Mark Prisk today confirmed nearly £1billion to bring sub-standard council homes up to scratch - while at the same time offering…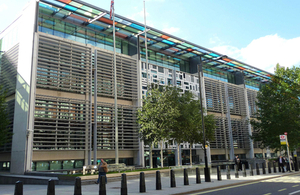 Housing Minister Mark Prisk today confirmed nearly £1billion to bring sub-standard council homes up to scratch - while at the same time offering a boost to local businesses up and down the country.
The Minister said that the funding, to be allocated to 41 councils over the next two years - would bring over 86,000 homes up to a decent living standard.
And with reports in some areas that every pound spent on Decent Homes improvements creates £1.46 in local spend through orders to tradesmen and suppliers in the area, he said the cash would also help kickstart the economy, supporting local tradesmen and creating new jobs.
Today's investment secures the future until the end of this Parliament of the Decent Homes Programme, confirming the indicative allocations made in 2011. The cash will help councils bring their homes up to a decent standard, from fitting new roofs and windows to updating kitchens or heating systems.
Mr Prisk said that this new construction and skilled work would provide a shot in the arm for thousands of local businesses and tradesmen, supporting the Government's measures to boost British jobs and the economy.
He is also keen to explore bringing forward some of this funding to councils to help boost their economies through local investment in decent homes. Officials will shortly be in touch with councils to see what may be done to achieve this.
The Minister said that spending money earlier would help boost local employment as early as possible, as well as delivering home improvements for tenants ahead of schedule.
Housing Minister Mark Prisk said:
By improving this country's council homes we will transform many families' lives for the better, bringing their living standards up to scratch ensuring that their home is the safe haven it is meant to be.

But the benefits of the £1billion I've confirmed today reach far beyond tenants themselves and into the local economy. With every pound spent on improvements boosting local business, creating new jobs and supporting local spending, I want to see councils realising the benefits of this cash as soon as possible.
Notes to editors
Research by Nottingham Trent University has shown that every pound spent through Nottingham's Decent Homes Programme created £1.46 spend in the local economy. It can be found at: www.homesandcommunities.co.uk/news/study-reveals-total-impact-decent-homes-tenants'-lives (external link).

The Government is keen to ensure that councils do everything they can to boost their economies through local investment with Decent Homes funding. Very soon we will be inviting them to talk to the Homes and Communities Agency and Greater London Authority about how they could spend this cash early.

Almost £1.6billion was allocated in this Spending Review to deal with Decent Homes Backlog. Councils were allocated £612million for years 2011/12 and 12/13, and this announcement confirms the £982.7million indicative allocations for years 2013/14 and 2014/15.

Full details of allocations can be found here: www.homesandcommunities.co.uk/sites/default/files/our-work/dhb_allocations.csv (external link).

The Greater London Authority will distribute £540million to councils in the capital, and Council landlords across the country will receive a share of £443million through the Homes and Communities Agency.
Published 28 September 2012