Set up a new school
Free schools are independent, state-funded schools.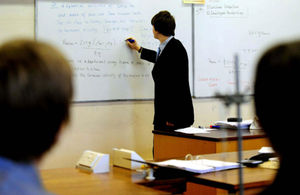 What is it?
Free schools are a way of improving choice for parents and driving up standards in schools for young people of all backgrounds.
The free schools programme provides teachers, parents, charities and community groups with the opportunity to set up new, independent, state-funded schools that raise educational standards.
Over 250 free schools are now open in every region of England, with more than 100 due to open from September 2015 onwards. Many have been set up by local parents, community groups or teachers.
How can I get involved?
If you're interested in setting up a new school, visit the New Schools Network website for more information and advice. You can call them on 020 7537 9208 or email info@newschoolsnetwork.org.
The Department for Education (DfE) also has details of the process and the criteria applications will be assessed against.
Applications to set up a new school need to be submitted to the DfE, which runs 3 application rounds each year.
The process for setting up a new school has been streamlined. It usually takes little more than a year from the DfE granting initial approval for a school to the school opening its doors to pupils.
So, although the process for setting up a new school is rigorous it's now much faster and simpler.